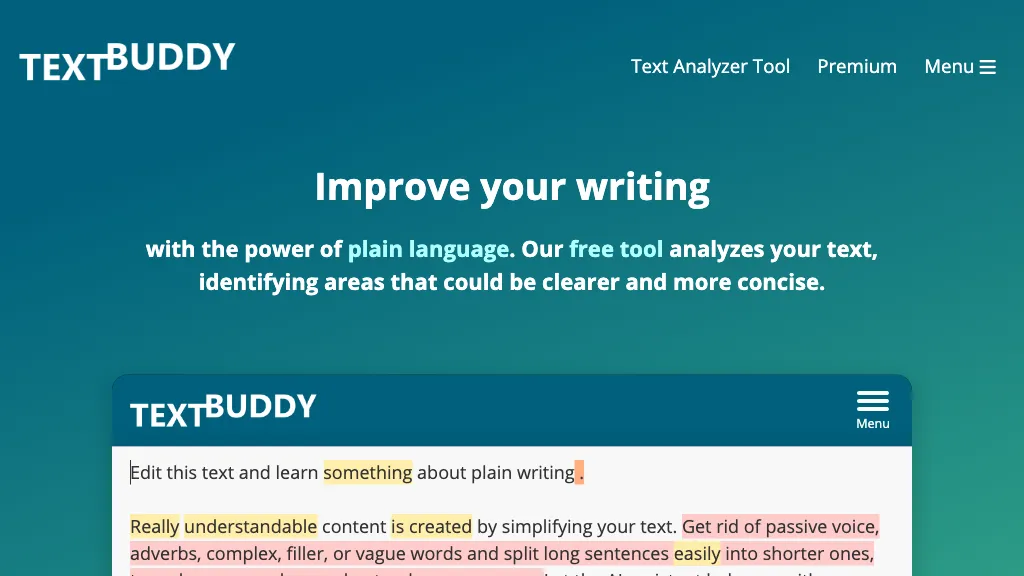 What is TextBuddy, pros and cons, use cases
TextBuddy is a powerful writing assistant that helps users create clear and concise content with ease. With its user-friendly interface and advanced features, TextBuddy is designed to simplify the writing process and improve the quality of written communication.
One of the key advantages of TextBuddy is its focus on plain language, ensuring that the content is easily understandable by a wide range of audiences. By using GPT-3-powered AI, TextBuddy offers smart suggestions for copywriting, suggests synonyms, and provides grammar and spelling checks to help writers create error-free content.
In addition, TextBuddy's sentiment analysis feature enables writers to gauge the emotional tone of their text, allowing them to adapt their messaging accordingly. Whether it's crafting persuasive marketing copy, engaging blog posts, or professional emails, TextBuddy is a versatile tool that caters to various writing needs.
Pros:
– Saves time and effort by offering quick editing suggestions and enhancing writing skills.
– Provides a readability score to ensure the content is concise and engaging.
– Offers keyboard shortcuts for a seamless and efficient writing experience.
– Customizable features allow users to tailor TextBuddy to their specific preferences.
Cons:
– As an AI-powered tool, it may not always capture the intended meaning accurately.
– Limited language support may pose challenges for non-English writers.
In summary, TextBuddy is a game-changer for writers, offering a faster and more efficient way to create clear and error-free content. Whether you're a content marketer, writing enthusiast, or professional, TextBuddy can help you bid goodbye to writer's block and elevate your writing to new heights.