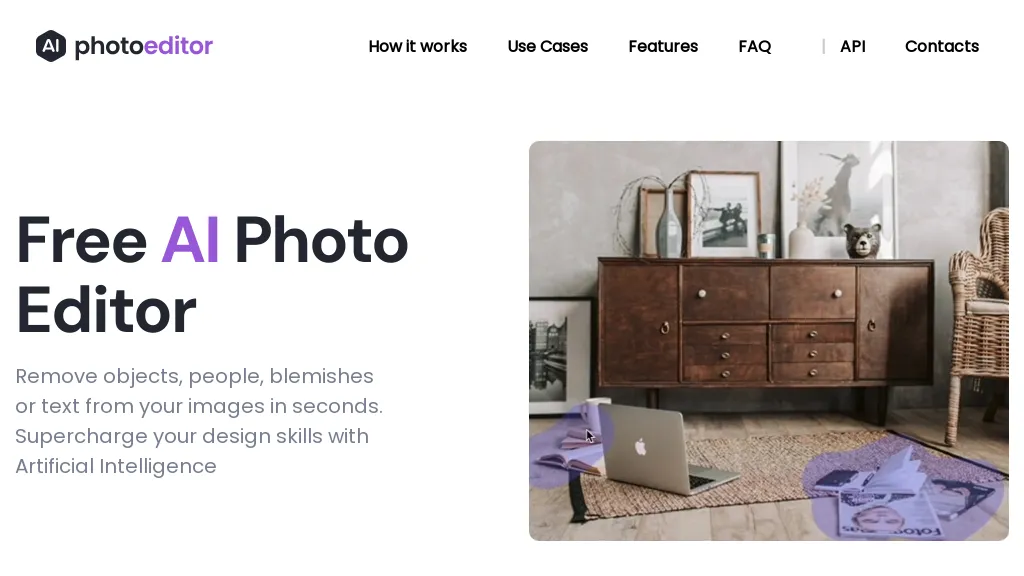 What is PhotoEditor.ai, pros and cons, use cases
PhotoEditor.ai is a full-featured photo editing tool powered by artificial intelligence. It offers a wide range of photo editing features, including the ability to remove unwanted objects from images, enhance image quality, and apply various photo effects.
The main strength of PhotoEditor.ai lies in its ability to automatically remove unwanted elements from photos. This feature saves users time and effort by eliminating the need for manual editing. The AI-powered tools also ensure that the results are natural and high-quality.
One of the key benefits of using PhotoEditor.ai is its ease of use. With a simple and intuitive user interface, even those with limited photo editing experience can achieve professional-looking results. The software offers a wide range of artistic and bold filters, allowing users to push their creative boundaries and enhance their photos for social media platforms or other creative projects.
For agencies, PhotoEditor.ai's speed and efficiency can be a game-changer. The automatic adjustments make it quick and convenient to edit large volumes of photos, particularly for real estate or product images intended for web submission. The desktop version of PhotoEditor.ai ensures a seamless customer experience with easy access to the editing options and powerful AI tools.
However, one potential drawback of relying on AI-powered enhancements is the lack of control over the editing process. While the results are generally of high quality, some photographers might prefer to have more manual adjustments at their disposal.
In conclusion, PhotoEditor.ai is a powerful tool for anyone looking to enhance their photos, remove unwanted objects, and improve image quality. Its usefulness extends from personal and creative projects to professional settings, making it a valuable asset for agencies and individuals alike.