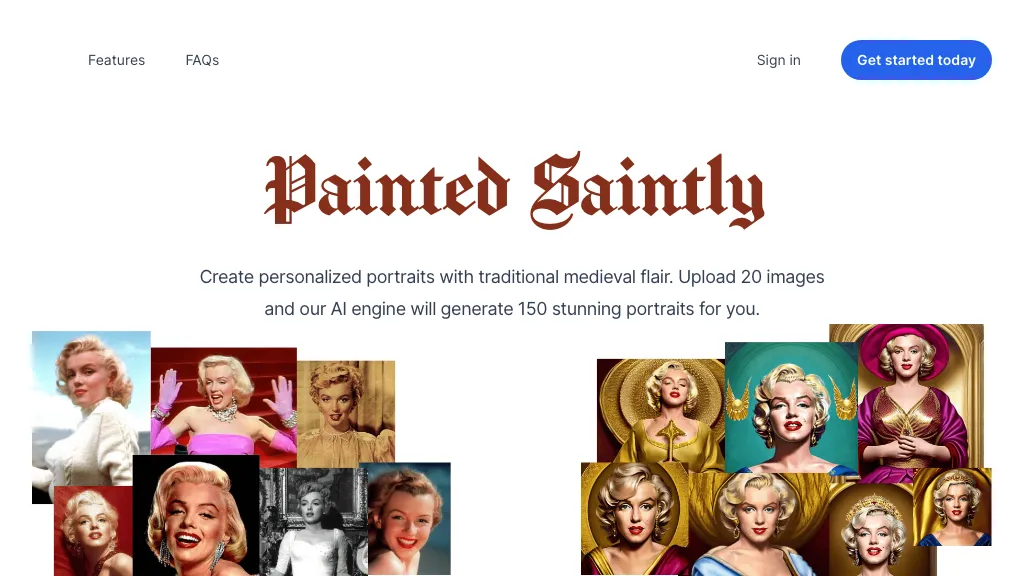 What is Painted Saintly, pros and cons, use cases
Painted Saintly is a cutting-edge AI-driven portrait-generating service that transforms ordinary images into stunning saint-like masterpieces. With its advanced AI engine, Painted Saintly offers users the opportunity to create personalized portraits that showcase their unique personality and style.
One of the greatest advantages of Painted Saintly is its ability to generate high-quality portraits from source images. Whether you're looking to create creative and eye-catching profile pictures for your social media accounts or want to surprise your loved ones with a one-of-a-kind gift, Painted Saintly delivers exceptional results.
The process is simple: users can easily upload their chosen image, and the AI-generated algorithms of Painted Saintly work their magic to produce a personalized saint-like portrait. With a wide range of options to choose from, including facial expressions, body shots, and artistic flair, users can create truly unique and beautiful pictures.
One of the key benefits of using Painted Saintly is its user-friendly and secure payment system. With a variety of payment methods available, including a reliable and secure payment processing platform like Stripe, Painted Saintly ensures a smooth and hassle-free payment process.
While Painted Saintly has its pros in terms of its AI-generated portraits and secure payment system, it's worth considering that the service relies on image generators and AI algorithms, which means that the results may not always meet everyone's expectations. Additionally, while Painted Saintly offers a range of customizable options, the number of available styles and options may be limited.
In conclusion, Painted Saintly is an innovative service that provides users with the ability to create personalized, high-quality, and saint-like portraits. Whether you're looking to enhance your social media presence, create a unique gift, or simply indulge your artistic side, Painted Saintly is an excellent choice.