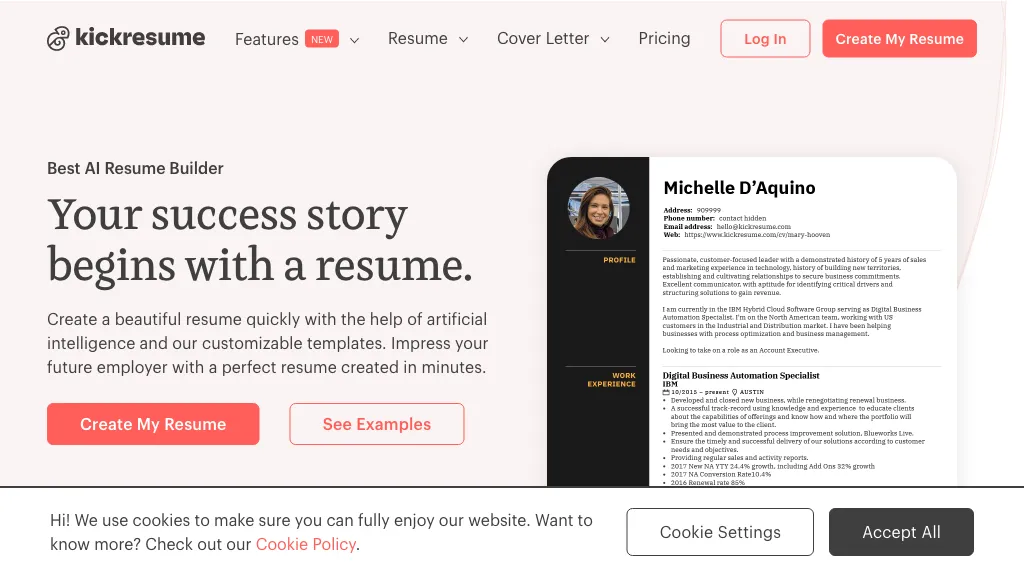 What is Kickresume, pros and cons, use cases
Kickresume is an online resume builder powered by artificial intelligence (AI) that helps job seekers create professional resumes quickly and effortlessly. With its user-friendly interface and vast collection of customizable resume templates, Kickresume simplifies the resume-building process.
One of the major pros of Kickresume is its automated resume creation feature. By simply inputting your information and selecting a template, Kickresume generates a polished resume tailored to your skills and experience. It also offers proofreading and grammar checking tools to ensure error-free content.
Another benefit is the availability of expert advice and examples. Kickresume provides useful tips and guidance for crafting an effective resume, making it a valuable tool for job seekers at any level of their career.
However, there are some drawbacks to consider. The free version of Kickresume provides only limited access to certain features and resume templates, which may limit customization options. Additionally, some users may feel restricted by the pre-written content provided by the AI, as it may limit their ability to showcase creativity and originality in their resumes.
Despite these limitations, Kickresume is an excellent solution for busy job seekers who want to create professional-looking resumes quickly. Whether you are a recent graduate or an experienced professional, Kickresume offers the convenience of an AI-powered resume builder with a range of customizable templates to suit your needs.