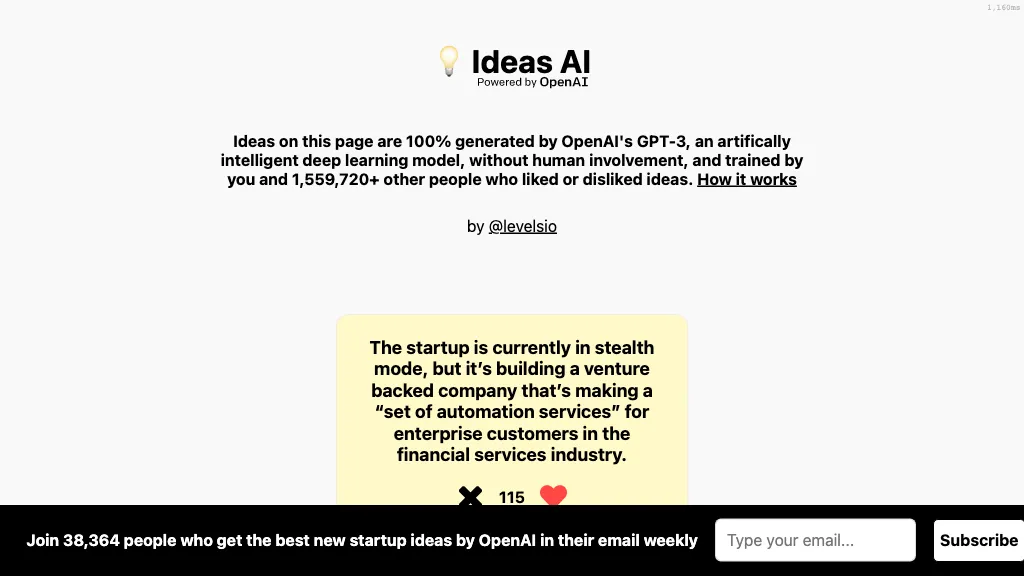 What is IdeasAI, pros and cons, use cases
IdeasAI is an innovative ai-powered idea generation tool that has revolutionized the process of coming up with fresh and relevant startup ideas. Targeted towards business owners, entrepreneurs, and startup enthusiasts, IdeasAI uses an autoregressive language model and deep learning algorithms to provide a wide range of creative and innovative ideas.
One of the key advantages of IdeasAI is that it eliminates the need for extensive human involvement in the idea generation process. By leveraging the power of artificial intelligence, it can generate a weekly list of real-time top ideas based on user feedback and user preferences. This not only saves time and effort but also ensures that the ideas generated are tailored to the specific needs and requirements of the user.
However, it is important to note that IdeasAI is not without its limitations. While it can provide a wide range of ideas, the quality and viability of these ideas may vary. Some may be truly innovative and have the potential for success, while others may be less feasible or even bad ideas. Therefore, it is crucial for users to exercise their judgment and evaluate the ideas generated by IdeasAI before pursuing them.
The potential use cases of IdeasAI are vast and span across various industries. For instance, in the dating app industry, IdeasAI can help developers come up with unique and user-centric features for their platforms. In the education sector, it can be used to generate ideas for online marketplaces or platforms connecting tutors with students. IdeasAI can also be utilized in retail stores to develop loyalty programs based on predictive analytics. Moreover, it can be an invaluable tool for project management in short-term engineering and construction projects.
Overall, IdeasAI is a powerful tool for accessing a wide range of innovative ideas. While it offers numerous advantages by streamlining the idea generation process, it is essential to balance it with human judgment to ensure that the ideas generated are truly relevant and feasible for implementation.