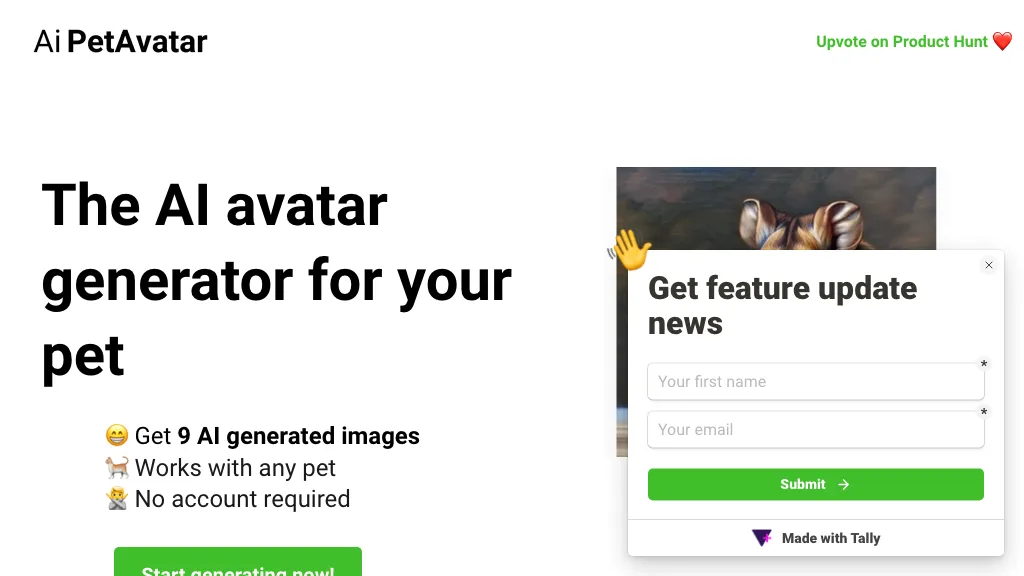 What is AI Pet Avatar, pros and cons, use cases
AI Pet Avatar is a cutting-edge technology that allows pet owners to create personalized avatars of their furry friends. This AI-powered avatar generator utilizes advanced AI technology and machine learning algorithms to generate stunning digital avatars based on photos of pets.
One of the main advantages of AI Pet Avatar is its intuitive interface, which makes it easy for pet owners to navigate and create individual avatars for their beloved companions. The AI software analyzes the pet's features and characteristics from the uploaded photos and generates a variety of avatar styles to choose from. These styles range from predefined options such as astronaut or royal styles to a wide variety of artistic avatars.
The use cases for AI Pet Avatar are vast. For pet owners who want to immortalize their furry friends in a digital form, this tool provides an exceptional solution. The avatars can be used as virtual versions of the pets, creating a digital presence for them. Additionally, the avatars can be customized and used for engagement on social media platforms, allowing pet owners to showcase their loyal friends in a unique and eye-catching way.
It's important to note that while AI Pet Avatar offers many advantages, there are a few cons to consider. Firstly, the accuracy of the generated avatars may vary depending on the quality of the uploaded photos. Additionally, the level of customization may be limited compared to more advanced AI avatar creation tools. However, considering the ease of use and the variety of styles available, AI Pet Avatar remains a top choice for pet owners looking to create personalized avatars of their beloved pets.