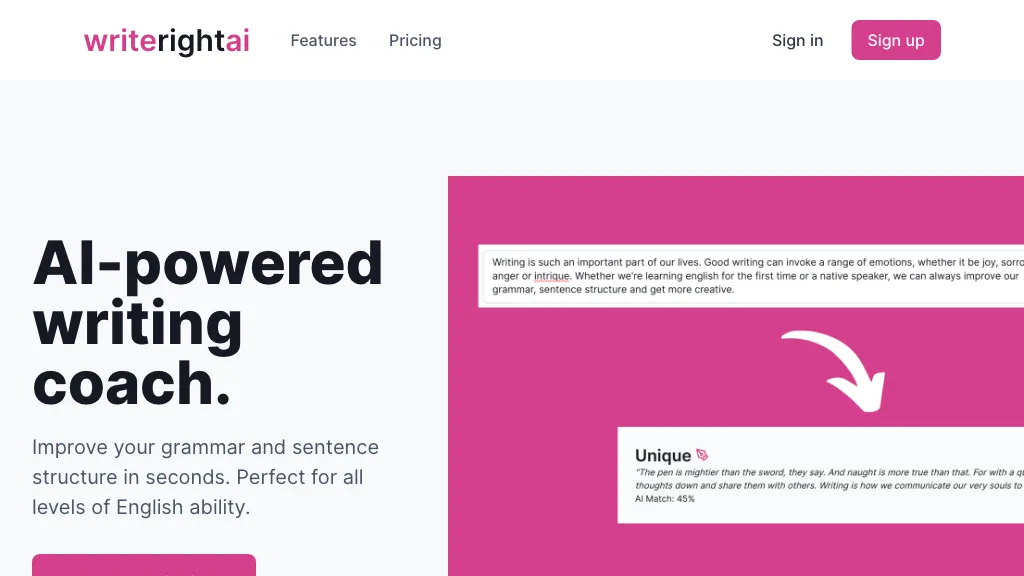 What is Writerightai, pros and cons, use cases
Writerightai is an innovative AI-powered writing coach that offers advanced AI suggestions to improve writing skills. With its user-friendly interface and unlimited access, it serves as a valuable tool for users of all English proficiency levels.
One of the key features of Writerightai is its ability to check grammar errors in real-time, providing instant feedback to users. It also offers suggestions for improvement in sentence structure and writing style, making it an effective grammar checking tool.
A major advantage of Writerightai is its extensive library of practice questions, allowing users to practice their language skills and enhance their writing proficiency. The AI-generated suggestions help users understand the correct usage of grammar and sentence structure.
Writerightai offers both free and Pro versions. The free version includes a freetext grammar check feature and basic writing suggestions. On the other hand, the Pro version provides access to more advanced features like paraphrasing tool, AI-driven design tool, and a professional content creation tool.
Use cases for Writerightai include students looking to enhance their writing skills, professionals aiming to improve their business communication, and non-native English speakers striving to enhance their English ability.
In conclusion, Writerightai is a must-have tool for anyone seeking to develop their writing skills. With its AI-powered grammar checking and advanced writing suggestions, it serves as a powerful tool for users of all backgrounds.