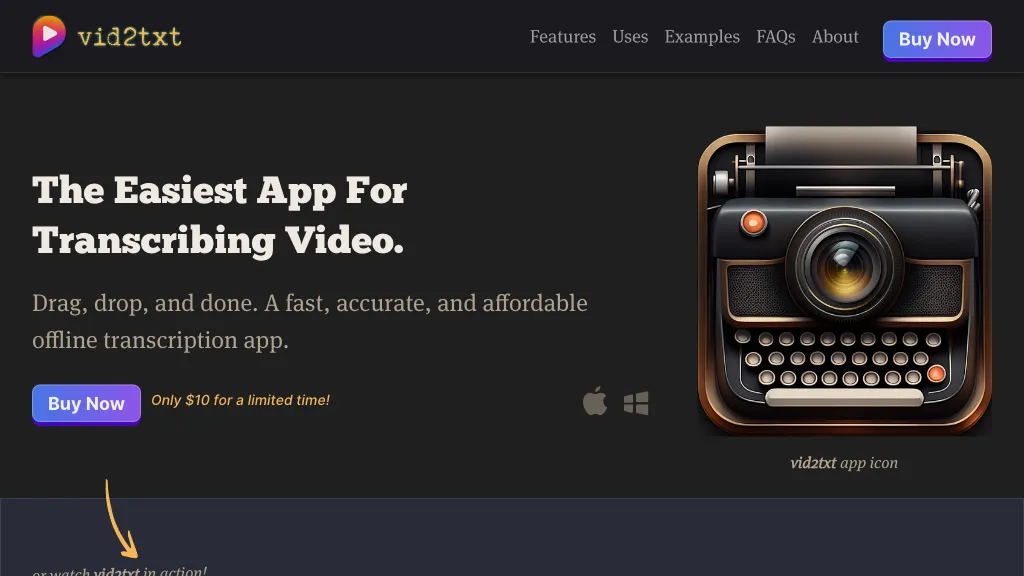 What is Vid2txt, pros and cons, use cases
Vid2txt is an advanced transcription tool powered by artificial intelligence (AI), designed to provide editable and readable transcripts for various audio and video content. With its impressive AI capabilities, Vid2txt can accurately transcribe files in minutes, making it a valuable asset for content creators, business professionals, and individuals seeking accessible and searchable content.
One of the standout features of Vid2txt is its offline functionality, allowing users to transcribe audio and video files even without an internet connection. This is particularly useful for individuals who are constantly on the go or have limited access to the internet.
Another advantage of Vid2txt is its affordable pricing, making it accessible to a wide range of users. This utility application offers competitive pricing for its online service provider, so users can get accurate and advanced transcriptions without breaking the bank.
Vid2txt supports various formats for transcription, including audio files like M4A and video files. Moreover, the company has announced the upcoming release of a Windows version, expanding its accessibility to users across different platforms.
Overall, Vid2txt provides an efficient and cost-effective solution for businesses and individuals looking to convert audio and video content into editable, readable, and searchable transcripts. Its AI-powered transcription capabilities, offline functionality, and affordable pricing make Vid2txt a standout choice for content creators, business professionals, and anyone in need of high-quality transcriptions.
Keywords: AI transcription tool, offline transcription app, content creators, editable transcripts, search engine optimization.