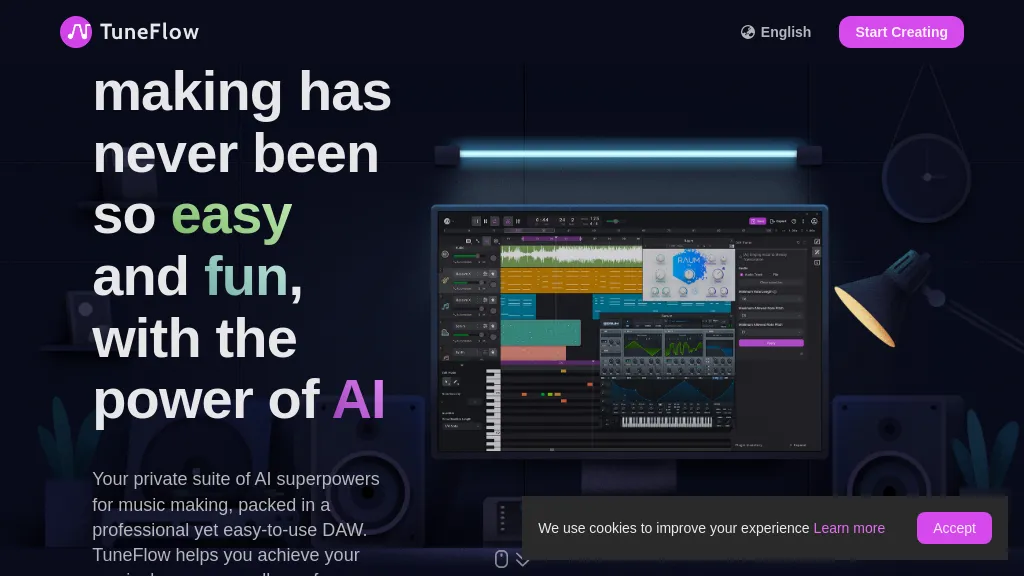 What is TuneFlow, pros and cons, use cases
TuneFlow is an innovative platform that revolutionizes the music composition and production process by leveraging advanced AI-powered tools. With a wide range of features and capabilities, TuneFlow empowers music creators to bring their musical ideas to life in a more efficient and creative manner.
One of the main advantages of TuneFlow is its ability to generate high-quality and royalty-free music compositions. By utilizing its music generation APIs and instrument recordings, users can easily create customized music arrangements that fit their preferred style and precise mood. Additionally, TuneFlow provides a library of favorite pieces and chill lo-fi music, serving as a constant source of inspiration for music creators.
Another standout feature of TuneFlow is its voice cloning and generation technology. This allows users to clone and generate favorite voices, enabling them to create unique and personalized vocal tracks for their music projects.
Furthermore, TuneFlow simplifies the lyrics writing and generation process through its AI-powered tools. With the integration of ChatGPT and automation tracks, users can effortlessly compose lyrics that complement their music compositions, speeding up the overall production workflow.
However, there are some limitations to consider when using TuneFlow. While it offers a variety of export formats and lossless exports, the platform primarily caters to digital audio workstations and desktop apps. This may pose some restrictions for users who prefer working exclusively in mobile or browser-based environments.
In summary, TuneFlow offers music creators numerous advantages, including high-quality music generation, voice cloning and generation, and lyrics writing and generation. Despite its limitations regarding platform compatibility, TuneFlow remains a powerful tool that streamlines the music production process and provides users with the essential superpowers for music making.