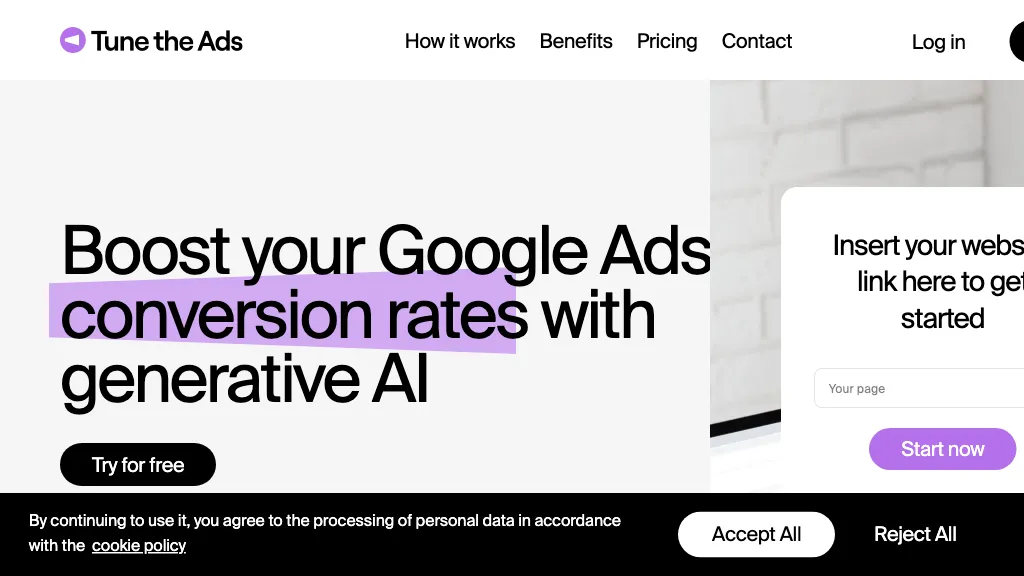 What is Tune the ads, pros and cons, use cases
Tune the Ads is an AI-powered tool designed to optimize Google Ads campaigns and drive higher conversion rates for advertisers. With its advanced automation capabilities, it streamlines the process of creating and fine-tuning Google Ads campaigns, allowing advertisers to maximize the effectiveness and return on investment of their advertising efforts.
One of the main benefits of Tune the Ads is its ability to generate ad ideas with incredible speed and variability. Using artificial intelligence, it can create billions of ads tailored to the target audience and specific campaign goals. This not only saves advertisers valuable time but also ensures that the generated ads are data-driven and effective.
Another advantage of Tune the Ads is its integration with Excel, which provides advertising professionals with a practical solution for managing and optimizing campaigns. Advertisers can fine-tune their campaigns, analyze performance, and make data-backed decisions all within the familiar Excel environment. Additionally, Tune the Ads offers accurate tracking and conversion revenue tracking, enabling advertisers to measure the success of their campaigns down to the finest detail.
However, like any tool, Tune the Ads does have its limitations. While it excels in generating ad ideas and streamlining the campaign creation process, some advertisers may still prefer a more hands-on approach or have unique needs that require specific campaigns. It is important to evaluate whether Tune the Ads fits the specific requirements and objectives of each individual advertiser.
In summary, Tune the Ads offers advertisers an effective and efficient solution for optimizing Google Ads campaigns. Its AI-based capabilities, quick generation of ad ideas, and integration with Excel provide advertisers with the tools they need to increase conversion rates and drive better results in their advertising efforts.