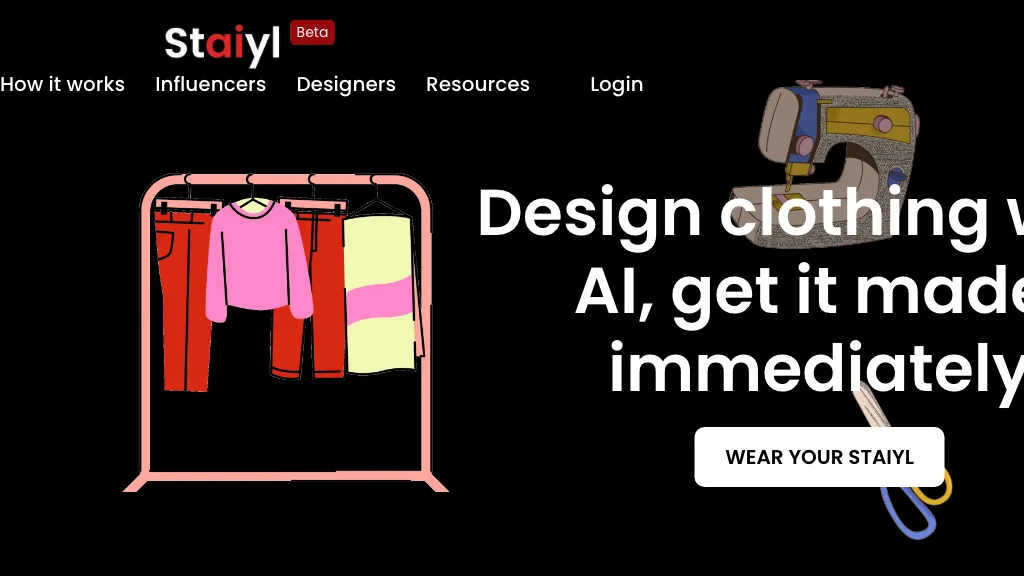 What is Staiyl, pros and cons, use cases
Staiyl: Redefining Custom Clothing Design
In the ever-evolving world of fashion, Staiyl is revolutionizing the way individuals bring their clothing design ideas to life. This innovative platform combines the transformative potential of artificial intelligence with the expertise of skilled human illustrators to create personalized and custom-made clothing designs.
One of the key benefits of using Staiyl is its ability to generate AI-powered custom sketches, making the design process efficient and convenient. Unlike traditional methods, where designers may spend hours sketching multiple variations for fashion designs, Staiyl's AI-powered fashion design tool rapidly generates intricate and stylish designs, tailored to meet individual preferences and fashion concepts. This eliminates the need for extensive design knowledge, allowing users to effortlessly translate their design ideas into stunning visuals.
Moreover, Staiyl offers human illustrator assistance for complex fashion designs. This unique collaboration between artificial intelligence and human expertise ensures that the design expectations of users are met with precision and accuracy. Users can access pre-made designs from influencers or submit their own design requirements, enabling them to create their dream wardrobe – all with the guidance and assistance of highly skilled human illustrators.
While Staiyl offers a range of custom design possibilities, it is important to consider its pros and cons. The use of AI-generated fashion designs significantly reduces the time and effort required to create intricate and customized clothing designs. However, some individuals may prefer the personal touch and creativity offered by human illustrators. Ultimately, Staiyl provides a versatile and efficient solution for anyone seeking to design and order custom-made clothing that truly reflects their personal style.
Overall, Staiyl's combination of AI-generated sketches and human illustrator assistance sets it apart as a game-changer in the fashion industry. With its user-friendly interface and ability to bring complex designs to life, Staiyl empowers individuals to realize their unique fashion concepts and design the clothing of their dreams.