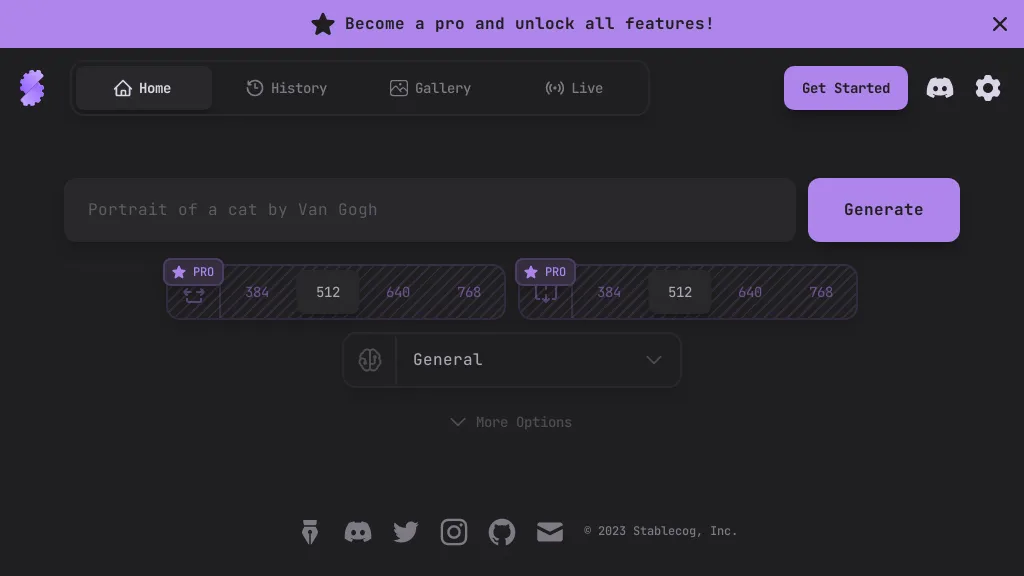 What is Stablecog, pros and cons, use cases
Stablecog is an advanced AI-powered image generator that offers a wide range of features and styles. It harnesses the power of artificial intelligence to produce stunning and visually appealing images, making it an ideal tool for various creative projects.
One of the standout features of Stablecog is its ability to generate high-quality images. The AI algorithms employed by Stablecog ensure that the images produced are of top-notch quality, making them suitable for professional use. Additionally, Stablecog provides a user-friendly interface, allowing even beginners to create captivating visuals with ease. The tool also supports multiple languages, making it accessible to users from different parts of the world.
However, there are a few aspects to consider when using Stablecog. Firstly, users need to create an account to access the full range of features. While this may be a minor inconvenience, it ensures that users have a personalized experience. Secondly, as with any AI-generated images, there might be limitations in terms of achieving complete customization or meeting specific requirements.
Stablecog finds applications in various use cases, such as comic creation, image editing, and the generation of unique and eye-catching visuals. Its versatility allows creators of all skill levels to bring their imaginations to life. Whether for personal or professional purposes, Stablecog offers a reliable and convenient solution for producing high-quality images tailored to the user's specifications.
In conclusion, Stablecog is an AI-powered image generator that provides a user-friendly interface, high-quality images, and support for multiple languages. Although there may be minor limitations, the tool's versatility and stunning image generation capabilities make it a valuable asset for creative individuals and professionals alike.