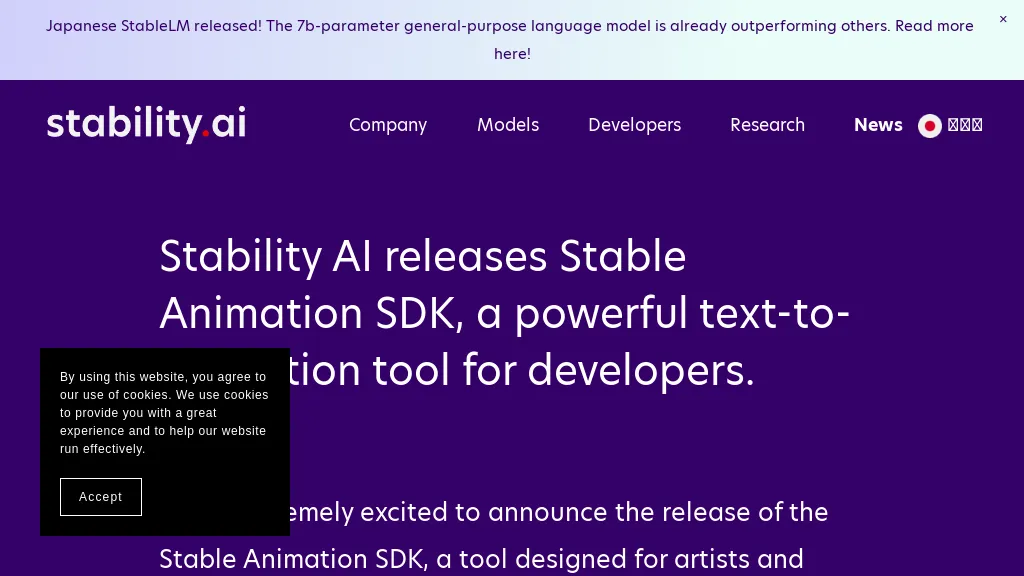 Visit Stable Animation Website
What is Stable Animation, pros and cons, use cases
Stable Animation is an advanced animation technique that leverages artificial intelligence and data models to create stunning and stable animations. This animation tool is designed to deliver high-quality animations by improving the stability and smoothness of the generated output.
One of the key benefits of Stable Animation is its ability to transform initial images, source videos, and even text prompts into customized animations. By using these inputs, the Stable Animation SDK can generate astonishing animations that are visually appealing and of high resolution.
The use cases for Stable Animation are diverse and cater to various industries. For instance, it can be used to enhance video editing by creating smooth transitions and effects. It can also be utilized in the gaming industry to develop lifelike and realistic character animations. Additionally, Stable Animation can be employed in advertising and marketing campaigns, enabling businesses to create eye-catching and engaging content.
While Stable Animation offers several advantages, there are also some considerations. The output animation may not always perfectly reflect the input due to the limitations of the AI algorithm. Additionally, the stability AI's performance can vary based on the complexity of the input and the animation styles required.
The target audience for Stable Animation SDK includes animation artists, video editors, game developers, advertisers, and anyone interested in creating high-quality animations. It provides a powerful set of tools to elevate the animation process and deliver visually stunning results.