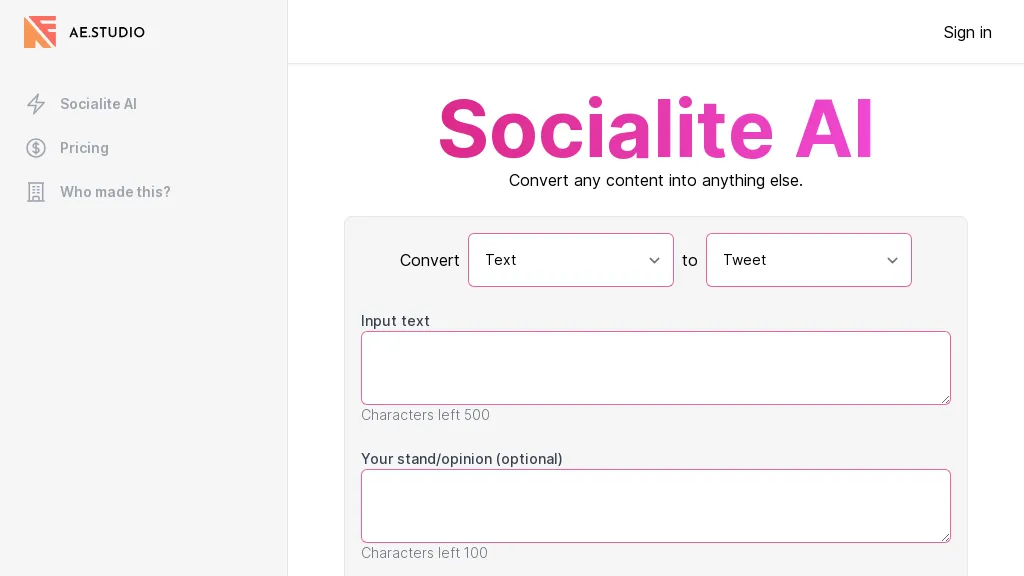 What is Socialiteai, pros and cons, use cases
Socialiteai is an innovative AI-powered platform that offers a comprehensive solution for content conversion. With its efficient conversion process, Socialiteai can transform various types of content, such as scientific articles, blog posts, and social media captions, into alternative formats like tweets, video scripts, and more.
One of the key highlights of Socialiteai is its straightforward pricing model. Users can easily access the platform and convert their text-based content with a character limit of 500 per conversion. This ensures that content creators can efficiently convert their input content without any hassle.
Socialiteai serves a wide range of use cases. Content creators can utilize this versatile solution to convert their articles and blog posts into social media content, expanding their reach and engagement. Additionally, it offers a valuable tool for converting long-form content into concise and SEO-optimized unique content, enhancing visibility and attracting new audiences across various channels.
Overall, Socialiteai provides content creators with a high-performing content conversion platform. With its ability to convert different types of content into numerous formats, it offers a compelling and comprehensive solution for efficient content creation. Whether it's converting informative articles into engaging social media captions or transforming blog posts into captivating video scripts, Socialiteai ensures that content creators can generate fresh and informative content that resonates with their target audience.