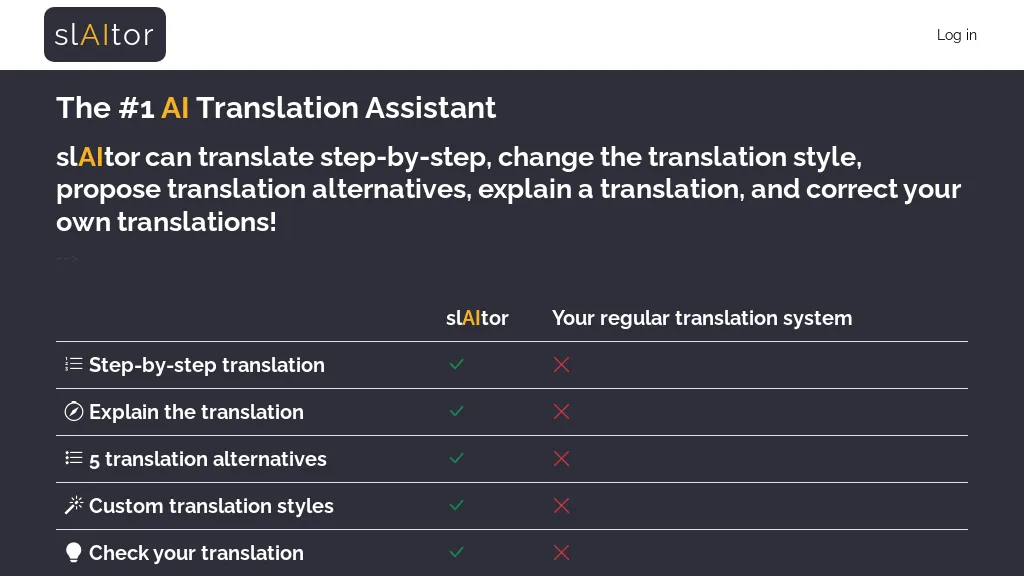 What is slAItor, pros and cons, use cases
slaitor is an innovative AI language translation assistant powered by GPT and SL technologies. It offers a unique approach to translation with its step-by-step translation process, allowing users to translate text chunk by chunk, ensuring accuracy and efficiency.
One of the major advantages of slaitor is its translation styles feature. Users can customize the translation output to match their desired style, whether it is formal, conversational, or technical. This ensures that the translated text aligns perfectly with the intended tone and context.
Another standout feature is the translation checker mode, which enables users to correct errors and fine-tune translations with ease. This mode provides powerful tools to identify and address any inaccuracies, making sure the final translation is of high quality.
slaitor is suitable for various use cases. Professionals in the translation industry can benefit from its advanced capabilities like translation memory and paraphrases, making their work more efficient and accurate. It is also a valuable tool for individuals who need regular translations for personal or business purposes.
In terms of pricing, slaitor offers flexible options to suit different needs. Users can choose between a yearly subscription or purchasing packs of credits, allowing them to manage their translation cost effectively. Slaitor is accessible online, making it easily available to users worldwide.
As a committed platform, slaitor continuously improves its translation technologies through regular updates and major upgrades. This ensures users have access to the most current and well-established translation systems.
In conclusion, slaitor is an AI language translation assistant with unique features like step-by-step translation, translation styles, and translation checker mode. Its powerful tools, flexible pricing, and commitment to continuous improvement make it a reliable choice for accurate and efficient translations.