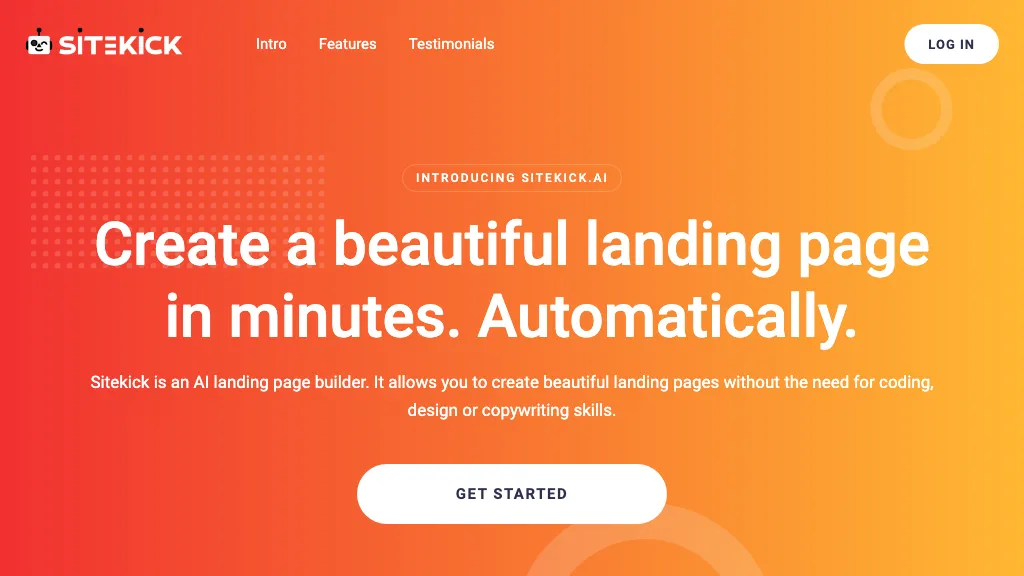 What is Sitekick AI, pros and cons, use cases
Sitekick AI is an AI-powered landing page builder that enables business owners to easily create visually stunning and high-converting landing pages, without the need for design, copywriting, or coding skills. With its industry-leading expertise in design and artificial intelligence, Sitekick AI offers a wide range of key features to help users create exceptional landing pages.
The pros of using Sitekick AI are its user-friendly interface and pre-made templates, which make it incredibly easy to use and navigate. The AI-generated landing pages tool ensures that users get expert-quality copywriting and design elements, while the image generators provide a vast library of royalty-free images to choose from. Additionally, Sitekick AI offers integration with Google Analytics, allowing users to track the performance of their landing pages and make data-driven decisions. Moreover, the private community within the platform allows users to get feedback from other business owners using the tool, to further improve their landing pages.
However, there are also a few cons to consider. While Sitekick AI has a wide range of customizable landing page design elements, users might have limited control over more complex design elements or specific design inspirations. Additionally, while the tool offers a wide range of pre-made templates, the options may not meet every business owner's specific needs.
Overall, Sitekick AI is a perfect tool for business owners who want to create visually stunning and high-converting landing pages without the need for design, copywriting, or coding skills. It is particularly beneficial for those who want to establish a strong online presence, improve conversion rates, and enhance their overall marketing efforts.
Use cases where Sitekick AI can be beneficial include launching new products or services, running marketing campaigns, creating landing pages for lead generation or customer acquisition, building brand awareness, and improving the overall user experience on a website.