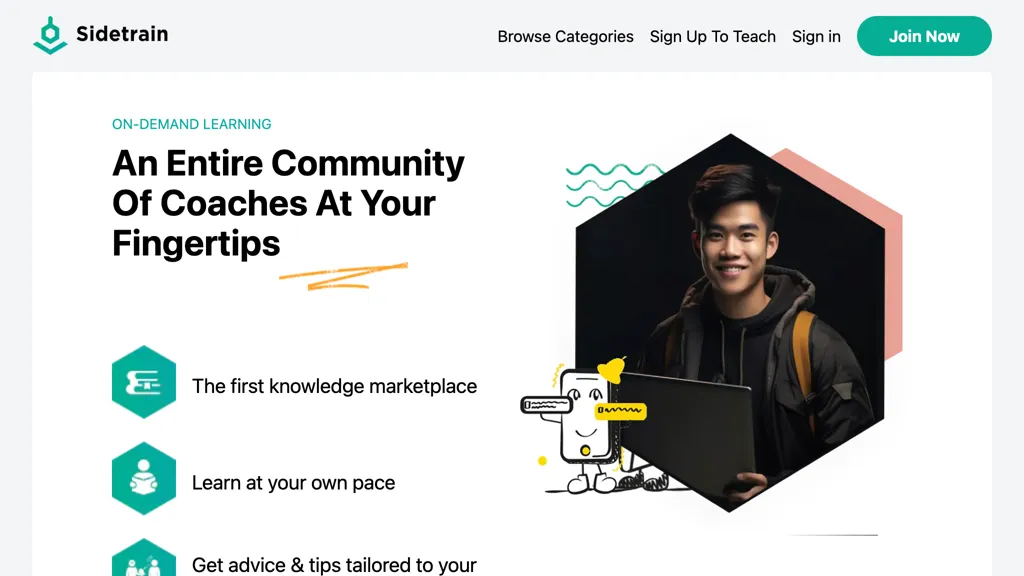 What is Sidetrain, pros and cons, use cases
Sidetrain is an innovative online education platform that offers a personalized learning experience by connecting passionate learners with expert coaches across a wide range of topics. With Sidetrain, learners can enhance their skills and knowledge through one-on-one sessions with experienced professionals, creating a unique and tailored learning journey.
One of the key advantages of Sidetrain is its ability to provide a hands-on experience and guidance with coaches who are experts in their respective fields. This allows learners to gain practical knowledge and insights from industry professionals, resulting in a more comprehensive learning experience.
Moreover, Sidetrain offers an opportunity for experts to monetize their skills by sharing their expertise with eager learners. This creates a vibrant learning community and allows individuals to leverage their knowledge and experience for mutual growth.
The platform boasts a wide range of topics, from gaming to health, allowing learners to explore different areas of interest and expand their knowledge in various domains. Additionally, Sidetrain provides flexible scheduling options, ensuring that learners can easily fit sessions into their busy lives.
However, it's important to note that Sidetrain does have its limitations. As an online platform, there may be instances where hands-on experiences are limited, depending on the topic. Furthermore, learners should keep in mind that the availability of coaches may vary depending on demand and scheduling conflicts.
Overall, Sidetrain provides an intuitive and centralized platform for personalized learning experiences. Its connection to expert coaches and comprehensive content make it a valuable tool for individuals seeking to acquire new skills or deepen their existing knowledge.