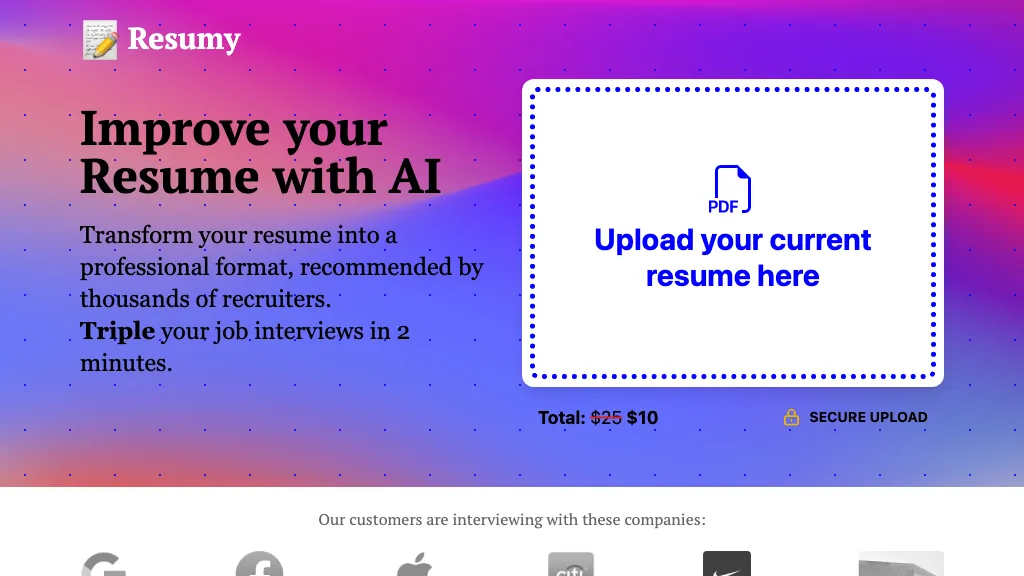 What is Resumy, pros and cons, use cases
Resumy is an innovative AI-powered platform that simplifies the resume creation and improvement process. With its quick resume generation feature, users can effortlessly create a professional-looking resume in minutes. By analyzing existing resumes, Resumy identifies areas for improvement and provides detailed fixes to enhance their effectiveness.
One of the standout features of Resumy is its vast collection of proven resume templates. These templates cover a wide range of industries and career levels, allowing users to select the best fit for their needs. Additionally, Resumy offers a grammar checker that ensures resumes are error-free, enhancing their overall quality and professionalism.
The use cases for Resumy are vast. Job seekers can utilize the platform to create attractive and professional resumes that catch the attention of recruiters. Professionals looking to switch careers can take advantage of Resumy to identify areas where their existing resumes can be improved to appeal to their desired industries. College graduates and entry-level job seekers can benefit from Resumy's resume generation feature to kickstart their job search with a polished resume.
Despite its numerous advantages, one downside of Resumy is the reliance on AI for resume analysis and improvement. While AI algorithms have improved significantly, there may still be cases where human feedback and advice is necessary for optimal results.
In conclusion, Resumy provides a convenient and efficient solution for resume generation, improvement, and optimization. Its user-friendly interface, access to proven resume templates, and grammar checks make it an ideal tool for job seekers looking to create standout resumes.