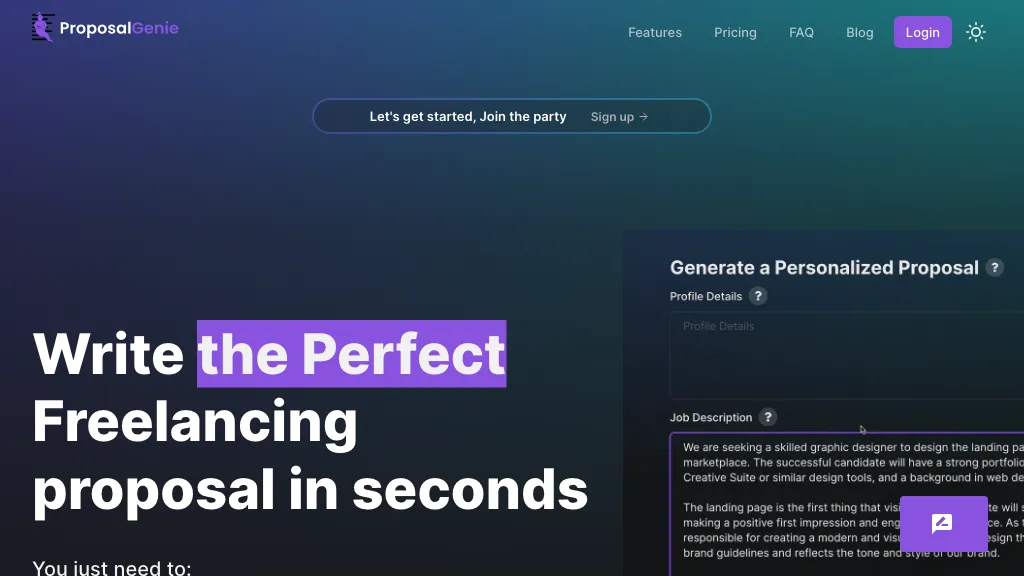 What is ProposalGenie, pros and cons, use cases
ProposalGenie is an AI-powered platform that revolutionizes the proposal creation process for freelancers. It offers a range of features and customizable templates that allow users to tailor their proposals to specific job requirements.
One of the key benefits of ProposalGenie is its time-saving capabilities. With its autofill extension and customizable proposal templates, freelancers can save significant time and effort in creating professional-looking proposals. This is especially useful for first-time freelancers who may not have the proposal writing skills or experience.
Additionally, ProposalGenie offers expert feedback on cover letters, helping freelancers improve their proposals and increasing their chances of success. This feedback is based on years of experience and can be invaluable in refining the proposal and presentation.
Another useful feature of ProposalGenie is its comprehensive database of skills and experience. Freelancers can utilize this database to highlight their relevant skills and expertise, increasing their chances of getting noticed by potential clients.
Overall, ProposalGenie streamlines the proposal process, saves time and effort, provides expert feedback, and offers access to a database of skills and experience. Its use cases are extensive, ranging from freelancers applying for job postings to creating tailor-made proposals for specific clients.
Pros:
1. Time-saving capabilities
2. Expert feedback on cover letters
3. Access to a database of skills and experience
Cons:
1. Reliance on AI may limit customization options
2. Pricing plans may not be suitable for all freelancers
In conclusion, ProposalGenie is a valuable tool for freelancers looking to create outstanding proposals. Its time-saving features, expert feedback, and access to a database of skills make it a must-have for freelancers who want to increase their chances of success.