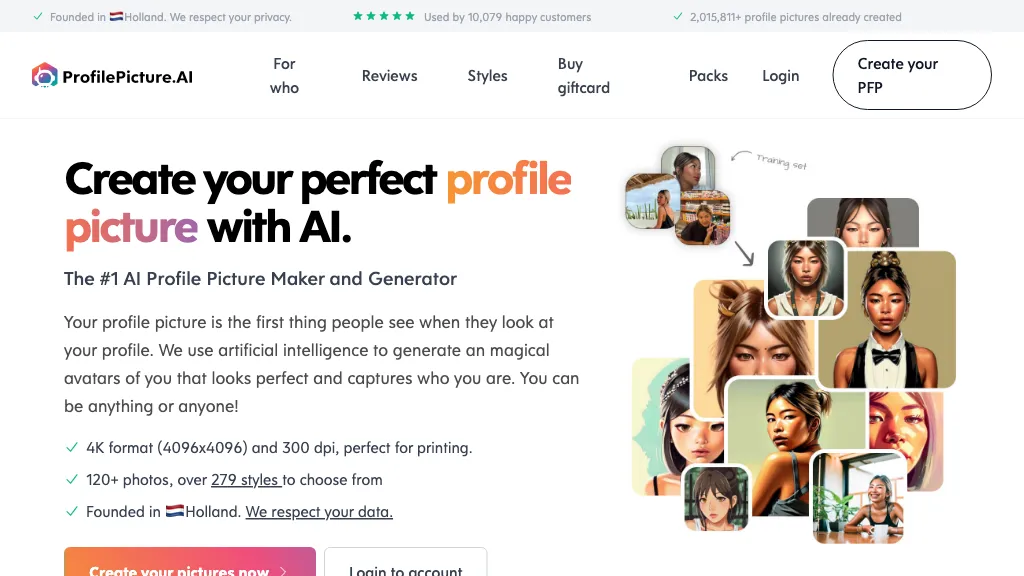 Visit ProfilePicture.AI Website
What is ProfilePicture.AI, pros and cons, use cases
ProfilePicture.AI is an innovative artificial intelligence (AI) tool that revolutionizes the world of profile pictures. With its advanced AI technology, users can effortlessly create stunning and personalized profile pictures for their social media accounts, dating profiles, or professional portfolios.
One of the key advantages of ProfilePicture.AI is its wide range of image styles and theme packs. Whether you're looking for a classic, modern, artistic, or even a whimsical style, this tool offers a diverse selection to cater to everyone's preferences.
Another notable feature is the one-time payment option, which provides users with unlimited access to the platform's features and benefits. Say goodbye to subscription fees or hidden costs – ProfilePicture.AI ensures a hassle-free experience with its transparent pricing.
To generate the perfect profile picture, the tool requires users to upload multiple photos. This allows the AI algorithm to analyze different facial features and characteristics, ultimately resulting in a highly accurate and customized avatar.
Potential use cases for ProfilePicture.AI span across various domains. From individuals looking to enhance their social media presence to businesses requiring professional avatars for team members, this tool adapts to different user needs.
While ProfilePicture.AI offers numerous advantages, it's important to note that it may not be suitable for those with ulterior motives or malicious intent, such as creating fake profiles. ethical use of the tool is encouraged.
In conclusion, ProfilePicture.AI is an AI-powered profile picture generator that caters to different styles and themes, with the added convenience of a one-time payment option. Its potential use cases are diverse, but responsible and ethical use is strongly advocated.