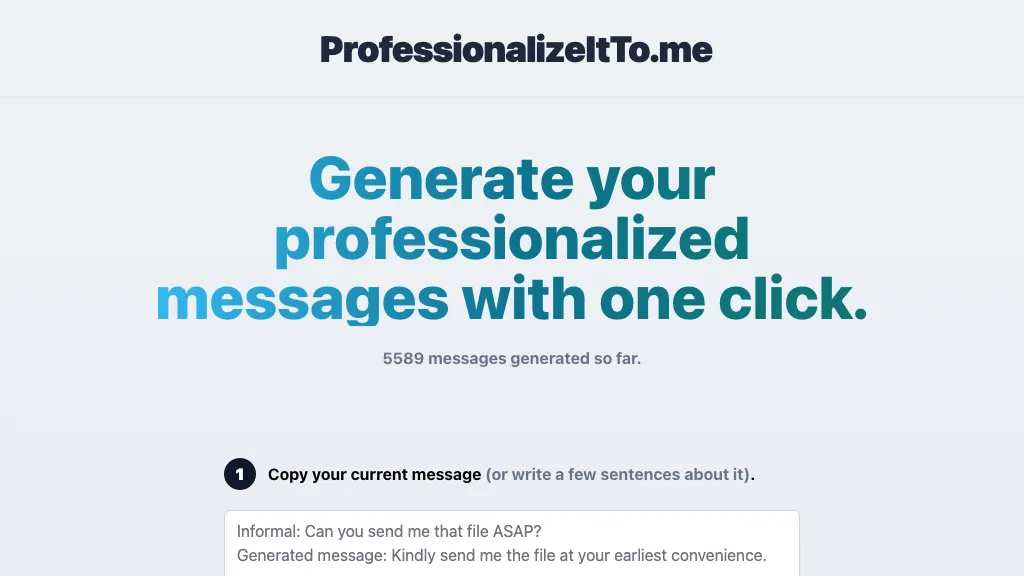 Visit Professionalize It To Me Website
What is Professionalize It To Me, pros and cons, use cases
Professionalize It To Me is an innovative, AI-based tool designed to enhance professional communication and messaging abilities. It is a powerful platform that helps users in crafting formal messages and professional correspondence.
One of the key advantages of Professionalize It To Me is its ability to generate polished communication, enabling users to present themselves and their ideas effectively in a professional setting. This tool is particularly beneficial for business professionals, non-native speakers, and individuals seeking to improve their communication skills.
Pros of Professionalize It To Me include its AI-powered tool that assists in creating impactful letters, such as compelling cover letters or professional emails. It offers a user-friendly interface and exceptional language capabilities, overcoming linguistic barriers and enhancing opportunities for collaboration with clients or potential employers.
Use cases for Professionalize It To Me include professionals seeking to improve their messaging skills, individuals needing assistance in crafting compelling emails, and non-native speakers aiming to communicate successfully in a professional setting. This tool caters to a wide range of users, providing them with an efficient and excellent solution for generating professional messages.
However, a potential drawback of Professionalize It To Me is that it may not be suitable for informal messages or casual texts. Users looking for assistance in generating informal or personal content may need to explore alternate solutions. Nonetheless, Professionalize It To Me remains an invaluable tool for anyone aiming to strengthen their professional communication skills.