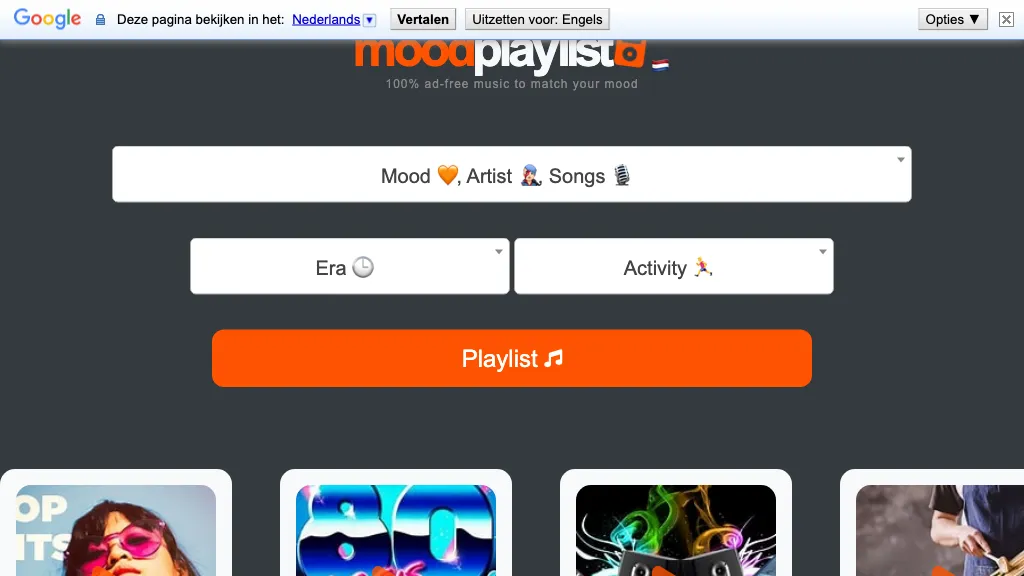 Visit Moodplaylist.com Website
What is Moodplaylist.com, pros and cons, use cases
Moodplaylist.com is an online platform that offers personalized music playlists based on the user's mood and preferences. This innovative service allows users to curate the perfect soundtrack for any occasion, whether it's relaxing at home, working out, or hosting a party.
One of the major advantages of Moodplaylist.com is its ability to import playlists from popular music platforms such as Spotify or Apple Music. This means that users can easily bring their existing playlists and continue to enjoy their favorite tunes while benefiting from the personalized music recommendations. Additionally, the platform offers a playlist creation feature, allowing users to create playlists specifically tailored to different environments, such as studying, cooking, or even road trips.
One of the main benefits of using Moodplaylist.com is the ability to discover new music that matches the user's mood. The platform's sophisticated algorithm suggests songs based on the user's preferences, ensuring that every track is perfectly suited to the desired ambiance. This can greatly enhance the user's listening experience and introduce them to new artists and genres they may not have discovered otherwise.
However, there are some drawbacks to consider. The platform currently supports a limited number of music streaming services for importing playlists, so users who primarily use less popular platforms may not be able to take full advantage of this feature. Additionally, while the algorithm does a good job of suggesting songs, it may occasionally miss the mark or present tracks that the user may not enjoy.
Overall, Moodplaylist.com is a valuable tool for music enthusiasts looking to enhance their listening experience by creating personalized playlists. Whether importing existing playlists or creating new ones, the platform offers a seamless and convenient way to curate the perfect soundtrack for any mood or occasion.