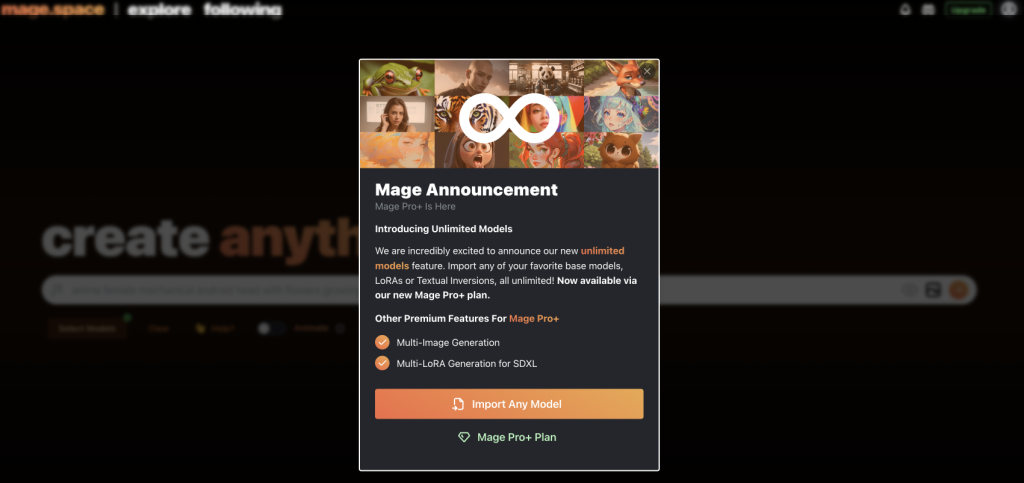 What is MageSpace, pros and cons, use cases
MageSpace is an AI-powered image generator that empowers content creators to bring their creative vision to life. With its advanced artificial intelligence technology and user-friendly interface, MageSpace offers a wide range of tools and features for generating high-quality and photorealistic images.
One of the notable features of MageSpace is stable diffusion, which ensures faster image creation without compromising on image quality. Additionally, MageSpace offers a variety of image models and prompt options, allowing users to generate different types of images to suit their specific needs.
The online community aspect of MageSpace enables users to connect with like-minded individuals, share their creations, and seek guidance from others. With active sessions and a weekly digest, MageSpace keeps users engaged and inspired.
Some use cases of MageSpace include creating social media graphics, generating automatic images for digital artwork, and generating GIFs. Content creators can also use MageSpace to generate images for their websites, presentations, and marketing materials.
Advantages of MageSpace include its user-friendly interface, unlimited image creation with membership plans, and unlimited privacy for user-generated content. However, one drawback of MageSpace is that its base model may not be sufficient for advanced users who require more complex image generation capabilities.
Overall, MageSpace is a versatile and powerful AI image generator that combines artificial intelligence with a user-friendly platform, making it an indispensable tool for content creators seeking to generate high-quality digital artworks.