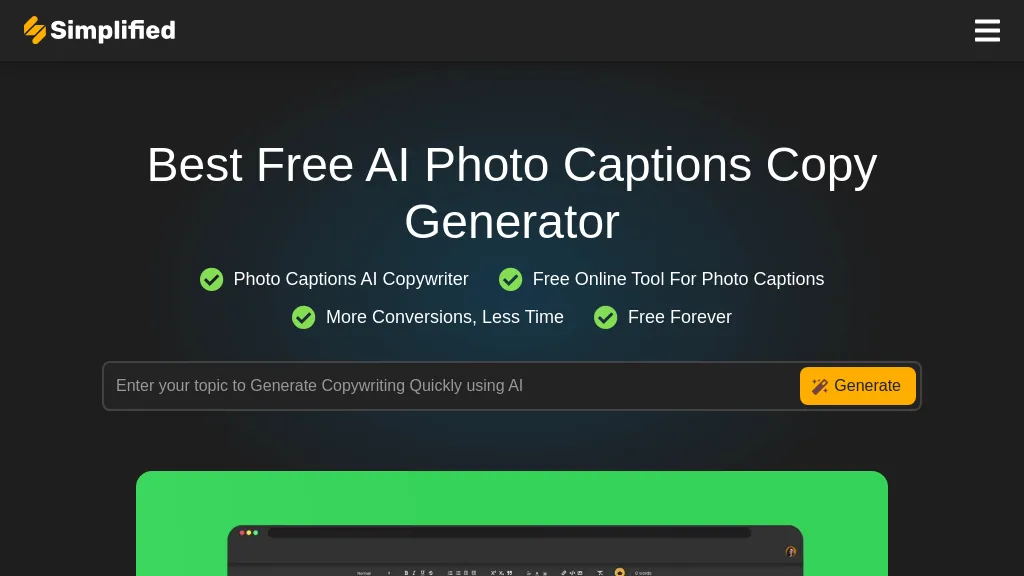 Visit Image to Caption Website
What is Image to Caption, pros and cons, use cases
Image to Caption is an AI-powered tool that generates descriptive text captions for images, making visual content more engaging and attracting increased attention on social media platforms. By using deep learning techniques and natural language processing, Image to Caption analyzes the image and generates accurate, relevant captions to provide additional context and emotional connection.
One of the main benefits of using Image to Caption is the time and effort saved in creating compelling captions. Business owners and content creators can leverage this tool to instantly add textual descriptions to their visual content, optimizing their social media posts and blog content. This not only enhances the user experience but also improves search engine optimization by providing relevant captions that can be indexed by search engines.
However, Image to Caption also has some limitations. While the AI-powered model is designed to generate accurate captions, there may still be instances where the generated text does not precisely capture the essence of the image. Additionally, the model heavily relies on the dataset it was trained on, and if the dataset is limited or biased, it may affect the quality and accuracy of the captions generated.
Use cases for Image to Caption are diverse. It can be used for creating descriptive captions for blog posts, enhancing social media image descriptions, or even as an online tool for individuals who require assistance in generating captions for their images. Overall, Image to Caption enhances the impact of visual content by providing well-written and relevant captions that resonate with the audience.