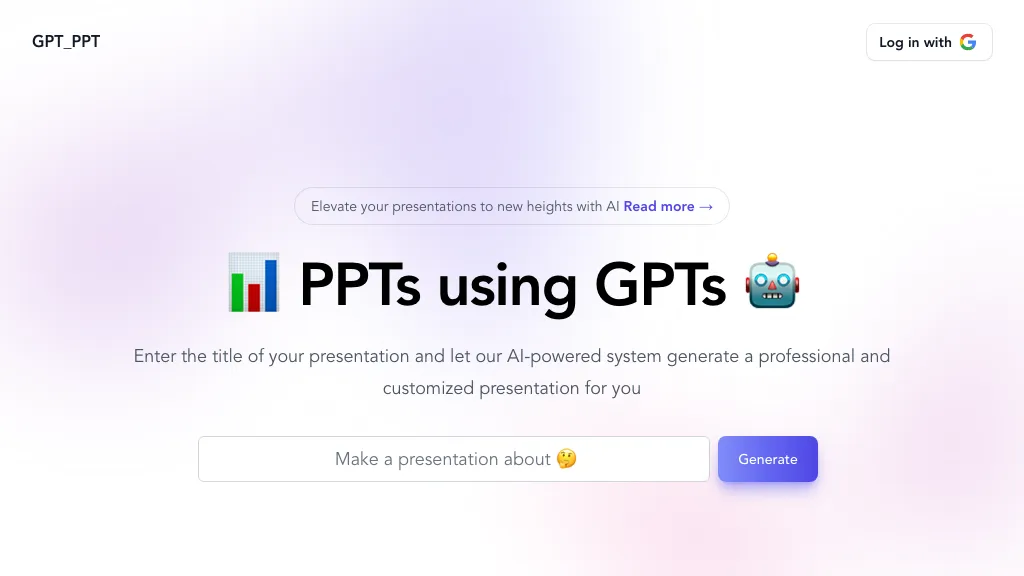 What is GPT-PPT, pros and cons, use cases
GPT-PPT is a cutting-edge presentation tool powered by artificial intelligence (AI) that simplifies the content creation process and enhances the overall presentation experience. With GPT-PPT, professionals, businesses, and educators can effortlessly create high-quality and impressive presentations.
One of the main advantages of GPT-PPT is its AI-generated content. This language model can generate relevant and high-quality content based on the inputs provided by the user. This feature saves time and effort, as it eliminates the need to create slide content from scratch. Additionally, GPT-PPT offers customization options, allowing users to easily personalize their presentations and make them visually appealing.
Another benefit of GPT-PPT is its cohesive presentation output. It seamlessly generates a coherent presentation outline, ensuring that the slides flow logically and create a lasting impression on the audience. This tool also provides basic design templates and offers options to export presentations in various editable file formats like PowerPoint slides or Google Slide files.
GPT-PPT's wide range of use cases makes it an invaluable tool for professionals, businesses, and educators. It can be used to create captivating presentations for business meetings, pitch decks, or educational purposes. Whether presenting complex topics or delivering impactful presentations, GPT-PPT streamlines the process and helps create visually stunning slide decks.
However, one potential drawback of GPT-PPT is its reliance on AI-generated content. While it is efficient and time-saving, it might lack the depth and nuance that human languages offer. It is important to review and edit the content generated by GPT-PPT to ensure accuracy and coherence.
In conclusion, GPT-PPT is an innovative presentation tool that leverages AI-generated content, customization options, and cohesive output to create high-quality and impressive presentations. It caters to the needs of professionals, businesses, and educators, offering a time-saving and efficient solution for creating captivating slide decks.