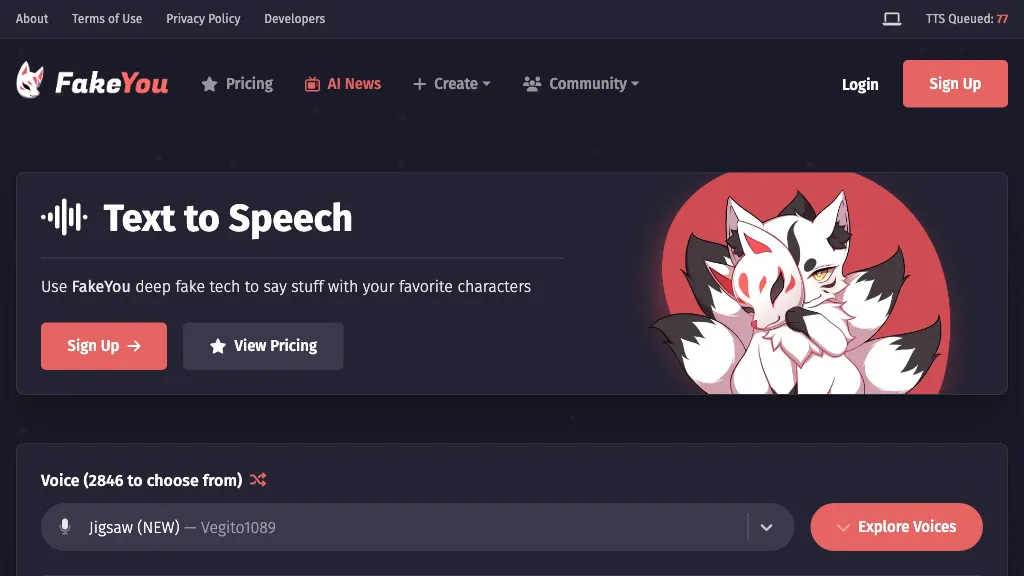 What is FakeYou AI, pros and cons, use cases
FakeYou AI is a cutting-edge web-based tool that allows users to generate high-quality, lifelike audio voice clips using a wide variety of voices, including those of celebrities and famous characters. With its advanced speech technology, FakeYou AI offers a perfect solution for content creators, marketers, and developers looking to enhance their projects with realistic voiceovers.
One of the main advantages of FakeYou AI is its extensive library of voices. Users can choose from a variety of character voices, commercial voices, iconic voices, and even the voices of celebrities. This opens up a world of creative possibilities, as users can bring their favorite characters to life, create engaging marketing videos, or develop innovative applications that require specific voice types.
Another benefit of FakeYou AI is its ease of use and fast processing capabilities. Users can quickly convert video content into audio or generate new voice clips in a matter of minutes. The tool offers regular updates, ensuring that users always have access to the latest features and voice models.
However, it's important to note that while FakeYou AI offers a perfect tool for entertainment, content creation, and marketing, it may not be suitable for every use case. The generated audio voice clips, although highly realistic, are still computer-generated and may lack the nuanced characteristics of a real human voice. Additionally, while FakeYou AI does provide a variety of voices, it may not have every celebrity or character voice in its library.
Overall, FakeYou AI offers a powerful and versatile solution for generating high-quality audio voice clips. With its wide variety of voices, fast processing capabilities, and regular updates, it is a valuable tool for enhancing entertainment projects, content creation, marketing videos, and application development.