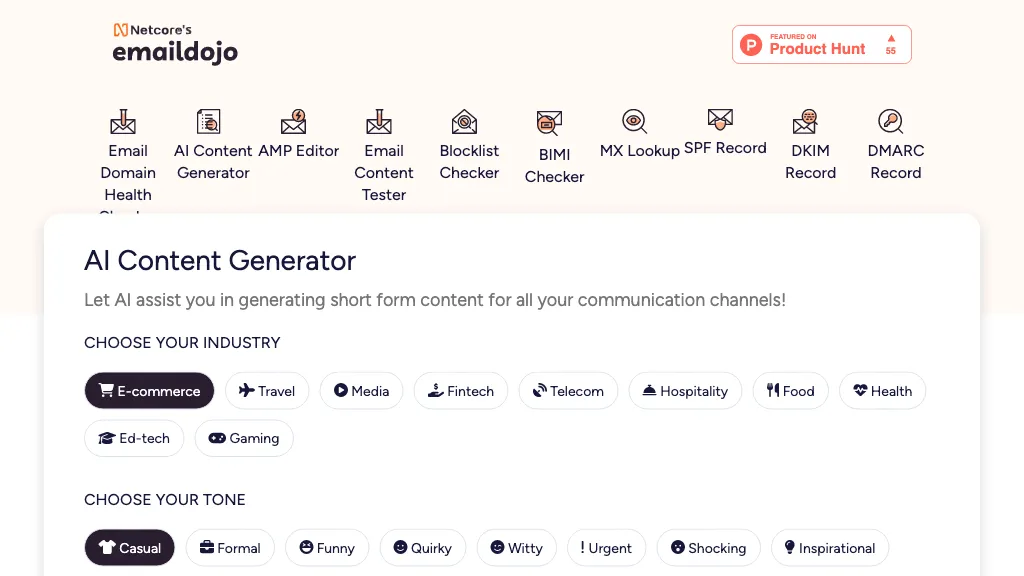 What is Emaildojo, pros and cons, use cases
Emaildojo is a powerful tool designed specifically for email marketing initiatives. It offers a user-friendly interface that enables content creators to easily create and manage email campaigns. With a wide variety of industry-specific content templates and design tools, Emaildojo allows users to generate high-quality and attention-grabbing email content.
One of the major advantages of Emaildojo is its email health checker feature. This feature analyzes various aspects of email deliverability, such as email domain health, metrics, and senders. Users are provided with a detailed email health report that includes actionable insights to improve their email campaigns' effectiveness.
Emaildojo's template gallery offers a versatile collection of pre-designed email templates, making it easier for businesses to create professional and engaging email content for various industries such as hospitality, food, and health. By utilizing the email design tools and openAI's GPT-3 model, users can customize the templates or create new ones according to their specific needs.
However, one potential drawback of Emaildojo is that its use of AI-powered content generation might require some adjustment to ensure that the generated content aligns with the brand's voice and messaging. Additionally, while Emaildojo focuses on short-form content for emails and social media posts, it may not offer the same level of content creation capability for longer form content like blogs or product descriptions.
Overall, Emaildojo proves to be an ideal solution for businesses looking to improve their email marketing efforts. Its user-friendly interface, range of industry-specific content templates, and email health checker feature make it a top-notch tool for creating high-quality email campaigns with improved deliverability.