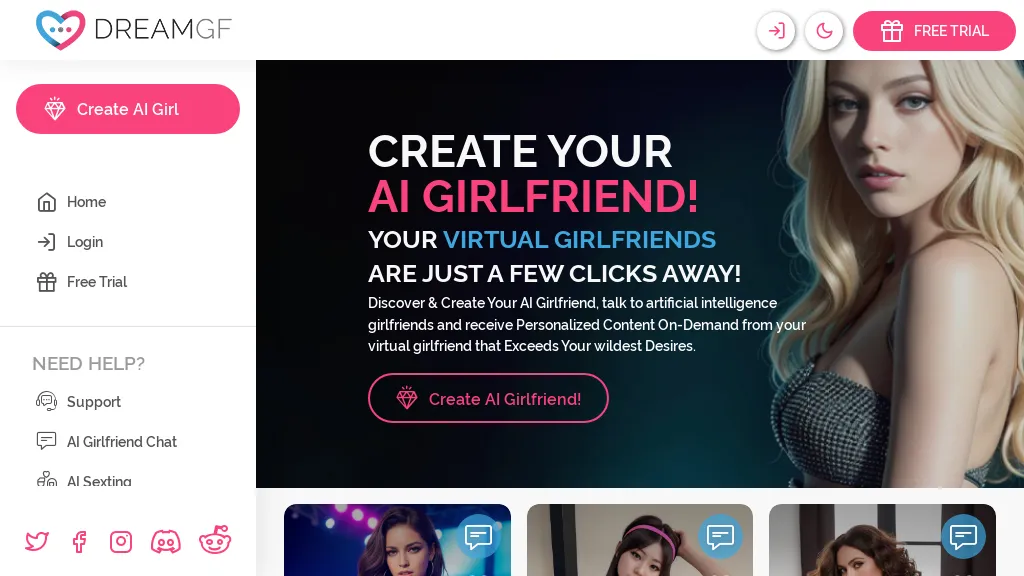 What is DreamGF.ai, pros and cons, use cases
DreamGF.ai is an innovative online platform that offers users the opportunity to experience a virtual girlfriend. Powered by artificial intelligence, DreamGF.ai provides personalized experiences and immersive interactions that simulate the presence of a real partner.
One of the key advantages of DreamGF.ai is its wide range of customizable features. Users can tailor their virtual girlfriend's appearance, from body type to clothes and even tattoos, as well as select personality traits to match their preferences. This level of customization allows for a truly unique dating experience.
Furthermore, DreamGF.ai offers interactive conversations that mimic real-life interactions, creating a sense of connection and meaningful engagement. Users can engage in deep and immersive conversations with their virtual partner, fostering a sense of companionship and emotional connection.
In terms of use cases, DreamGF.ai provides a risk-free experience for users who are seeking companionship or want to practice their dating skills. It also serves as a platform for individuals looking for personalized content on demand and varied interaction experiences.
While DreamGF.ai presents exciting possibilities for users, it is important to consider user privacy. As the platform relies on artificial intelligence, users should be aware of the potential for their data to be collected and utilized for targeted advertising or other purposes.
In conclusion, DreamGF.ai offers a unique and personalized virtual dating experience, bridging the gap between technology and human connection. With its immersive interactions and customizable options, it presents an alternative avenue for users seeking companionship or even just meaningful conversations.