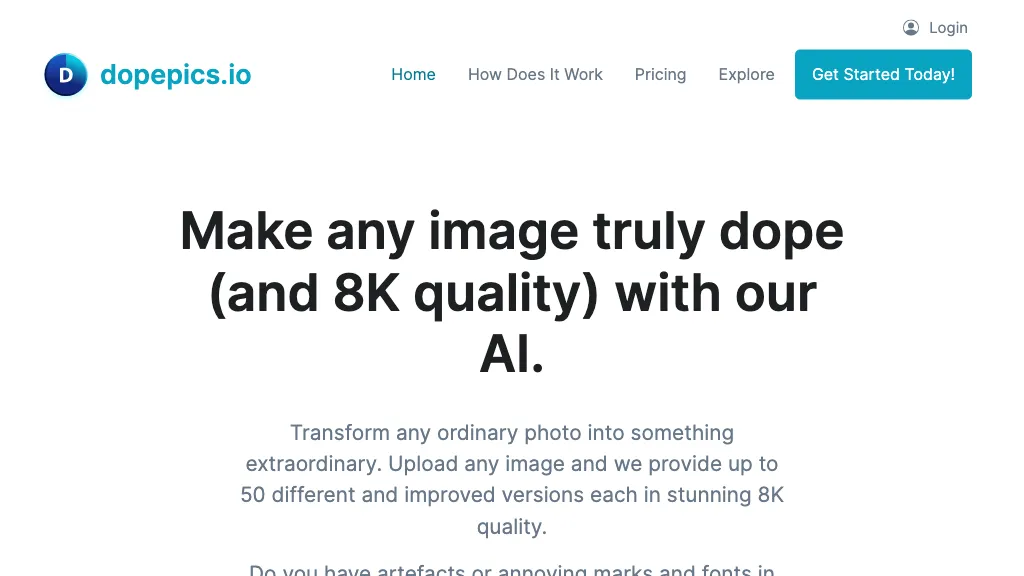 What is Dopepics, pros and cons, use cases
Dopepics is an AI-powered image editing tool that is designed to transform ordinary photos into extraordinary visuals effortlessly. With its extensive editing skills and unlimited AI image transformations, Dopepics allows users to enhance the visual appeal of their images with just a few clicks.
The key features of Dopepics include an easy-to-use interface, high-quality image enhancements, and the ability to upscale images to higher resolutions. This tool is perfect for content creators, professional photographers, and individuals looking to elevate their creative projects with stunning visuals.
One of the advantages of using Dopepics is its ability to remove unwanted marks or elements in images with precision and efficiency. It also offers alternate versions of images, allowing users to explore different creative expressions for their content. Additionally, Dopepics ensures user privacy and has a comprehensive privacy policy in place.
However, a potential disadvantage of Dopepics is its limited GPU capacity, which may result in a slower image processing speed when dealing with large files or extensive editing requests. Additionally, while Dopepics offers an array of image editing tools, it may not be suitable for users who require professional-grade image editing for print materials or highly complex visual projects.
Use cases for Dopepics range from enhancing personal photos to creating visuals for websites and social media platforms. It can be particularly useful in transforming ordinary images into high-quality visuals for marketing campaigns or presentations. Whether you need to increase the resolution of images, remove annoying marks, or add stylish fonts to images, Dopepics is the perfect tool for effortless image enhancement.
In conclusion, Dopepics empowers users to unlock the full potential of their images through AI-powered image transformations. While it has its limitations, its ability to effortlessly enhance image quality and create extraordinary visuals makes it a valuable asset for content creators, photographers, and anyone seeking to elevate their visual content.