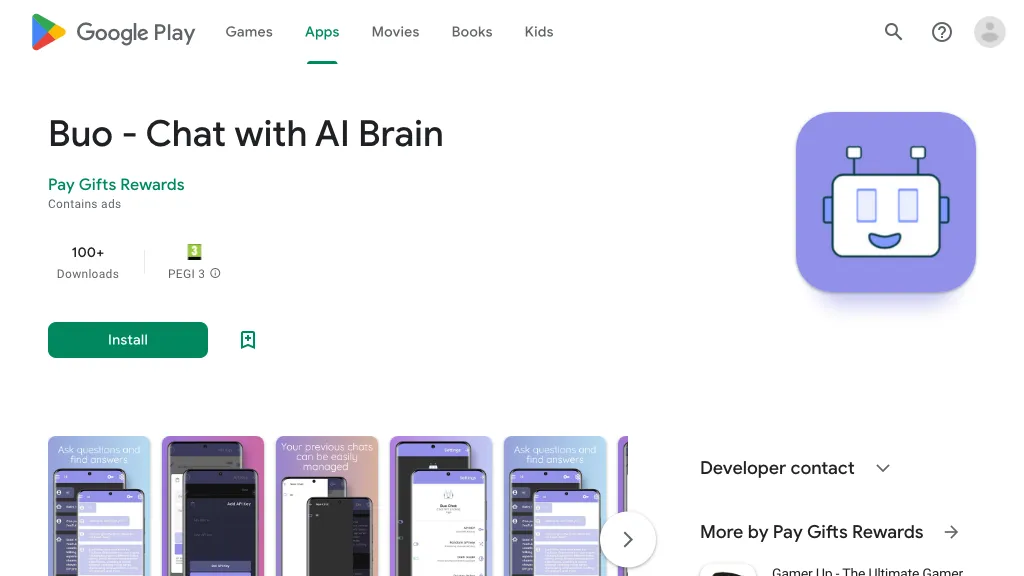 Visit Buo – Chat with AI Brain Website
What is Buo – Chat with AI Brain, pros and cons, use cases
Buo – Chat with AI Brain is an AI-powered chatbot app designed to provide timely and accurate responses to user queries. It utilizes natural language processing and machine learning to understand and generate human-like responses.
One of the key features of Buo – Chat with AI Brain is its language translation capability. It supports multi-languages and can translate user queries and responses in real-time. This makes it a powerful tool for businesses operating in global markets or dealing with customers who speak different languages. Users can easily communicate with customers from different regions without the need for manual translation.
The application also offers a wide range of features, such as writing assistance and study assistance. It can assist users in composing emails, essays, or any other written content. Additionally, students can use it to get help with their homework or research.
Some of the advantages of Buo – Chat with AI Brain include its accuracy in providing answers, its ability to handle a large number of messages, and its enjoyable user experience. Users can have unlimited messages and receive accurate information without the need for human intervention.
However, there are a few cons to consider. The tool may not always fully understand complex queries, and its responses can lack the personal touch of a human operator. Additionally, while the application is a powerful tool, it may not be as effective for more nuanced or subjective topics that require human judgment.
Overall, Buo – Chat with AI Brain is an invaluable tool for businesses and individuals. Its language translation feature, along with its range of other features, make it an efficient solution for various use cases. Whether it's providing customer support, assisting with written tasks, or aiding in language learning, Buo – Chat with AI Brain offers an excellent AI-powered support tool.