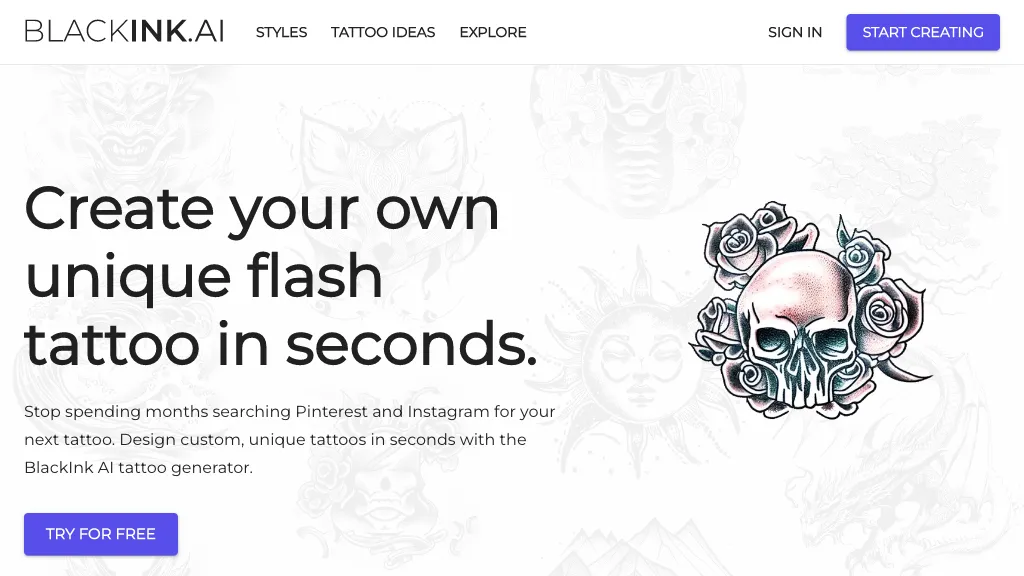 What is Blackink AI, pros and cons, use cases
BlackInk AI is an innovative AI-powered tattoo designer that offers a wide range of unique tattoo designs and inspiration for various tattoo styles. It allows tattoo enthusiasts to experiment with different tattoo ideas and find the perfect design for themselves.
Pros:
1. Unlimited Designs: BlackInk AI generates countless tattoo-like designs, ensuring a wide selection to choose from.
2. Personalized Tattoos: Users can easily customize the generated designs to create personalized tattoos that perfectly reflect their style and taste.
3. Inspiration for Tattoo Styles: BlackInk AI offers a multitude of tattoo styles, including Japanese, minimalist, geometric, and dotwork designs, providing endless inspiration for tattoo enthusiasts.
4. High-Resolution Results: The AI-powered technology ensures high-resolution output, resulting in stunning and detailed tattoo designs.
5. Saves Time and Effort: By using BlackInk AI, users can skip the hassle of searching for design ideas and instead focus on selecting the perfect tattoo design.
Cons:
1. Lack of Human Touch: While BlackInk AI offers a wide range of design options, it might lack the personalized touch that a human tattoo artist can provide.
2. Limitations in Tattoo Placement: The AI-generated designs might not account for specific body placements, which may require adjustments by a tattoo artist during the actual tattooing process.
Use Cases:
1. Tattoo Enthusiasts: BlackInk AI is an ideal tool for tattoo lovers looking for unique and personalized designs without relying solely on the skillset and creativity of a tattoo artist.
2. Tattoo Artists: BlackInk AI can be used by professional tattoo artists to explore new styles, gain inspiration, and collaborate with their clients to create custom designs.
3. Experimenting with Tattoo Ideas: Those who are unsure about their preferred tattoo style can use BlackInk AI as a platform to experiment and discover their perfect tattoo design.
In conclusion, BlackInk AI is an AI-powered tattoo designer that offers unlimited design options, inspiration for tattoo styles, and the ability to experiment with tattoo ideas. While it may lack the human touch, it is a valuable tool for tattoo enthusiasts and artists alike.