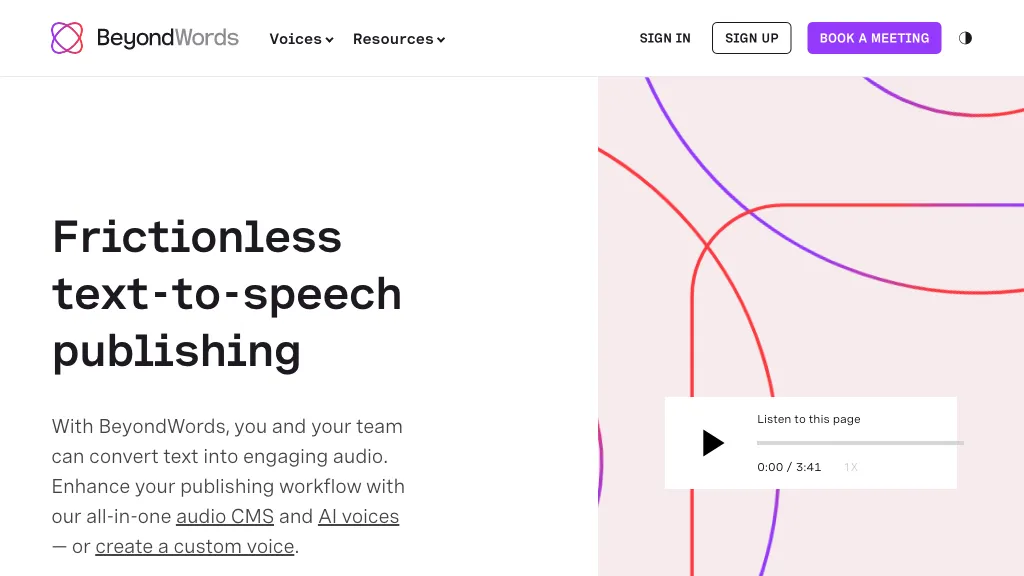 What is BeyondWords, pros and cons, use cases
BeyondWords is a cutting-edge text-to-speech platform that allows users to create lifelike AI voices enhanced by customizable natural language processing (NLP) algorithms. With its advanced features, BeyondWords offers a seamless audio production experience for a variety of use cases.
One of the key advantages of BeyondWords is its ability to create high-quality, natural-sounding synthetic voices. Users can choose from a diverse range of voice options, including exclusive AI voices and even collaborate with professional voice actors to create custom voices that fit their specific needs. The platform also boasts a vast voice library, providing users with an extensive selection of real and localised voices.
BeyondWords' intuitive dashboard offers users an easy-to-use interface to create or edit audio content. The Text-to-Speech Editor allows for precise control over the voice, tone, and pronunciation, ensuring the desired output. Additionally, users can curate custom playlists and podcast feeds, allowing for seamless organization and distribution of their audio content.
The platform offers various options for sharing audio, including manual embedding or sharing via URL. BeyondWords also provides detailed analytics to track engagement, enabling users to measure the effectiveness of their audio content and optimize their strategies accordingly.
Monetization is another standout feature of BeyondWords, as users can seamlessly integrate audio ads from sponsors into their content. This opens up opportunities to generate revenue and make the most out of their audio assets.
Overall, BeyondWords provides a comprehensive and user-friendly platform for creating lifelike AI voices enhanced by customizable NLP algorithms. Whether it's for podcasts, audiobooks, language learning, or any other use case, BeyondWords empowers users to bring their written content to life in an engaging and immersive audio format.