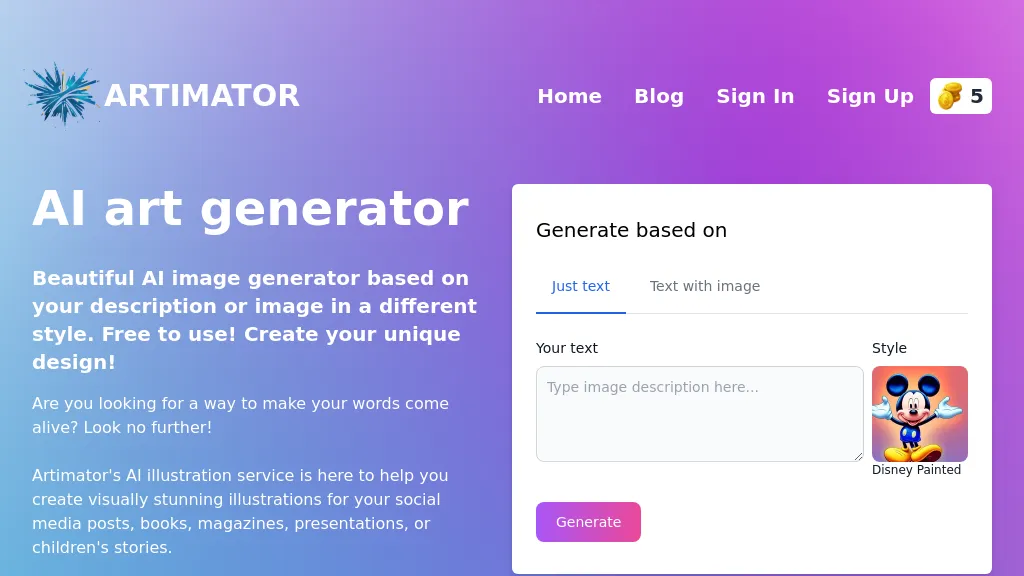 What is Artimator.io, pros and cons, use cases
Artimator.io is an AI-powered platform that serves as an all-in-one generator for creating stunning artwork and images. With its advanced modes and stable diffusion AI, Artimator.io offers a wide range of artwork generation options, making it a perfect solution for both professional designers and individuals looking to create beautiful images.
One of the standout features of Artimator.io is its impressive ability to generate high-quality, photorealistic images in various art styles. Users can simply provide text descriptions or even upload photos, and the platform will transform them into exquisite artworks. Additionally, Artimator.io allows users to remove unnecessary objects from their images, perfect for cleaning up photos or focusing on specific elements.
The pros of Artimator.io include its easy art creation process, which requires no artistic skills or knowledge. Users can achieve professional designer-like results with just a few clicks. The platform's user-friendly interface makes it accessible to all, regardless of their level of expertise.
Use cases for Artimator.io are vast and varied. Users can generate unique artwork for personal or commercial use, explore different art directions, or even transform their selfies into various styles. The ability to remove unwanted objects from images comes in handy for editing photos or creating custom images for social networks and other platforms.
In summary, Artimator.io is an AI artwork generator that provides a wide range of stunning images in various styles. With its easy art creation and user-friendly features, it is a dependable tool for anyone looking to explore the possibilities of AI-powered artwork creation.