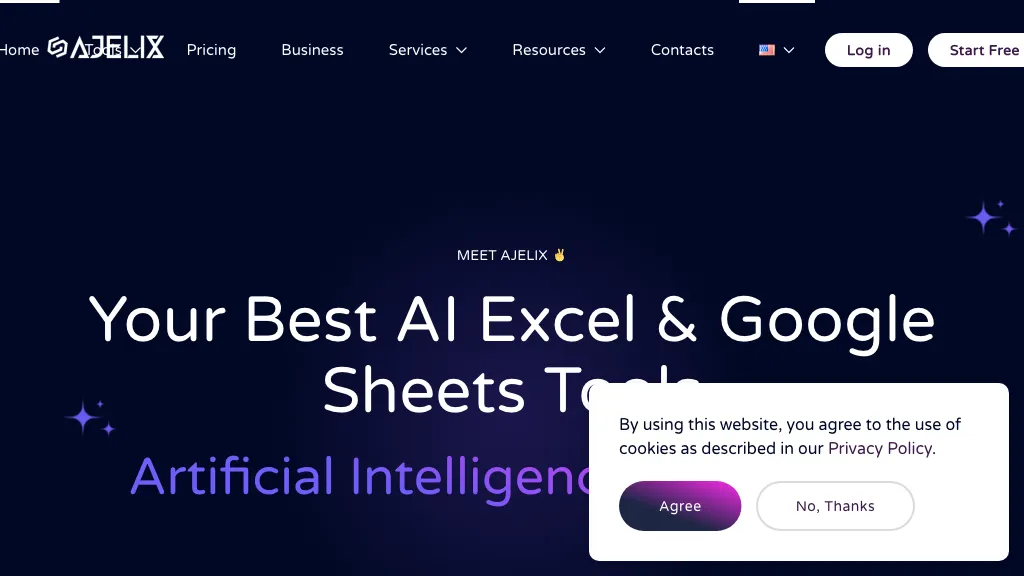 Visit Ajelix AI Excel Tools Website
What is Ajelix AI Excel Tools, pros and cons, use cases
Ajelix AI Excel Tools is a suite of powerful AI-powered tools designed to enhance productivity and efficiency in Excel. These tools offer a range of features, including the ability to automate repetitive tasks, generate complex formulas, and even write VBA scripts.
By automating tasks, Ajelix AI Excel Tools frees up valuable time and resources, allowing users to focus on more strategic and value-added activities. The AI-powered formula generator simplifies the process of creating complex formulas, saving users from having to manually write them. Additionally, the VBA script generator and debugger help streamline the development and maintenance of VBA scripts, eliminating the need for extensive coding knowledge.
The advantages of using Ajelix AI Excel Tools are apparent. They provide an intuitive and user-friendly interface, making them accessible even to non-technical users. With these tools, businesses can drastically improve productivity, reduce errors, and make informed decisions. Furthermore, Ajelix AI Excel Tools offer accurate and reliable results, thanks to their AI-driven algorithms.
However, there are also a few potential drawbacks. Ajelix AI Excel Tools may not fully address every advanced or highly specific requirement a user may have. Additionally, they may come with a learning curve for users who are not familiar with AI or Excel automation tools.
Overall, Ajelix AI Excel Tools are an excellent solution for businesses and individuals looking to automate tasks, generate complex formulas, and streamline their Excel workflows. They offer a range of use cases, from data analysis and report creation to spreadsheet translation and business intelligence. With Ajelix AI Excel Tools, users can unlock the full potential of Excel and improve productivity in a simple and cost-effective way.