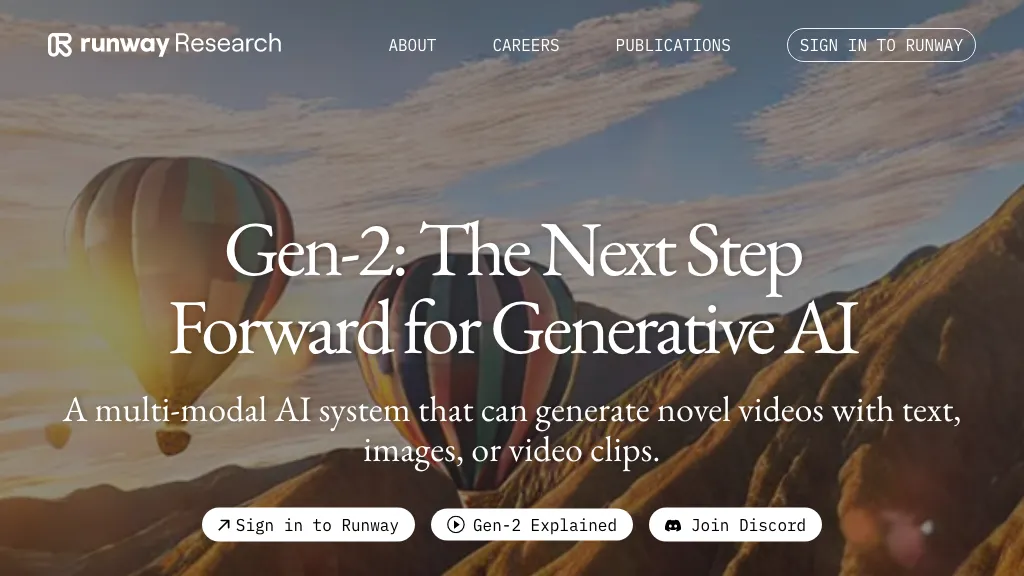 What is Runway Gen-2, pros and cons, use cases
Introducing Runway Gen-2: Revolutionizing Video Generation
Runway Gen-2 is a groundbreaking artificial intelligence (AI) model that has emerged as a game-changer in the world of video production. Building upon the success of its predecessor, Runway Gen-2 takes video creation to new heights by offering an array of features and capabilities that pave the way for stunning, high-quality videos.
One of the most remarkable aspects of Runway Gen-2 is its ability to generate videos from mere text descriptions. By feeding the model with written prompts, users can effortlessly transform their imagination into captivating visuals. This feature opens up endless possibilities for creativity, allowing users to bring their ideas to life without the need for complex video creation processes.
But that's not all. Runway Gen-2 takes video generation a step further by offering composition and style options based on images or text prompts. This means that users can specify the desired look and feel of their videos, be it a cinematic style, realistic renders, or even abstract visuals. The model leverages neural networks and advanced algorithms to synthesize video content that seamlessly aligns with the user's vision.
The advantages of using Runway Gen-2 extend beyond its impressive video quality. This innovative tool democratizes video production, making it accessible to marketers, content creators, educators, and anyone in need of high-quality video content. With Runway Gen-2, the once arduous and time-consuming process of video creation becomes effortless and efficient.
In terms of use cases, Runway Gen-2 finds applications in a wide range of industries and scenarios. From marketing videos that captivate audiences to educational videos that enhance learning experiences, this powerful AI model can cater to diverse needs. Its ability to generate videos from scratch or seamlessly incorporate pre-existing video clips, together with its knack for video synthesis and inpainting, makes it invaluable for professionals seeking to produce compelling pieces.
While Runway Gen-2 offers immense benefits, it is worth noting the limitations of the technology. Generating longer videos can be a slow process, and the model provides a limited number of credits per month, which may restrict extensive use. However, given the remarkable strides made by Runway Research in the field of generative video synthesis, it is safe to say that the future holds great promise for this revolutionary tool.
In a world where video production has often been considered a daunting endeavor, Runway Gen-2 shines as a beacon of hope. With its exceptional capabilities and high-quality video output, it empowers individuals and businesses alike to embrace their creativity and produce compelling video content effortlessly. With Runway Gen-2, the possibilities are truly limitless.